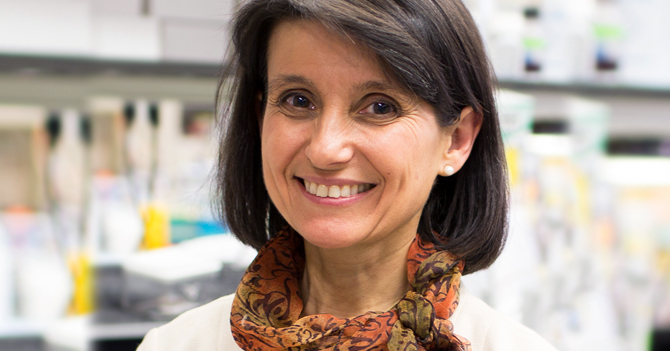 For the CRCHUM Conference we will welcome on March 26, Dr. Ana Maria Cuervo, is Professor in Development and molecular biology and Co‑Director of the Einstein Institute for Aging Studies, New York.
Cells count on surveillance systems to handle protein alterations and organelle damage. Malfunctioning of these systems occurs with age and is on the basis of different age-related diseases. We are interested in understanding the mechanisms and consequences of the age-dependent malfunctioning of autophagy, one of the components of the proteostasis network.
We have found that a selective form of autophagy, known as chaperone-mediated autophagy (CMA), is markedly reduced with age.
In this talk, I will describe our recent findings on the molecular regulators of CMA, the novel physiological regulatory functions identified for this process, the consequences of the functional decline of this type of autophagy with age and some of our current efforts to CMA activity in vivo in the context of different age-related diseases.

---
FRIDAY, MARCH 26, 2021 – 12 P.M. TO 1 P.M.
*You will receive a confirmation email containing the information you need to join the meeting.

Dr. Ana Maria Cuervo obtained her M.D. and Ph.D. in Biochemistry and Molecular biology from the University of Valencia (Spain) i and received postdoctoral training at Tufts University in Boston. In 2002, she started her laboratory at Albert Einstein College of Medicine, where she is now co-director of the Institute for Aging Research.
She is a recognized leader in the field of protein degradation and the biology of aging for her work on the impact of autophagy on aging and age-related disorders, with emphasis in neurodegeneration.
Dr. Cuervo has been the recipient of prestigious awards, including the P. Benson Award in Cell Biology, the Keith Porter, the Nathan Shock, the Vincent Cristofalo, the Bennett J. Cohen in Aging Biology, the Marshall Horwitz Prize, and the Saul Korey Prize in Translational Medicine. Dr. Cuervo has delivered prominent lectures such as the Robert R. Konh, the NIH Director's, the Roy Walford, the Feodor Lynen, the Margaret Pittman, the SEBBM L'Oreal‑UNESCO for Women in Science or the Harvey Lecture.
Dr. Cuervo is elected member of the Valencian Royal Academy of Medicine, the Spanish Royal Academy of Sciences, the American Academy of Arts and Sciences and the National Academy of Sciences.

Invited by Martine Tétreault and Christine Vande Velde
Neuroscience Theme

We look forward to seeing you connected in large numbers!

---
ABOUT CRCHUM CONFERENCES
The CRCHUM Conferences are free weekly meetings featuring renowned scientific speakers from various disciplines.
> Schedule of the CRCHUM Conferences