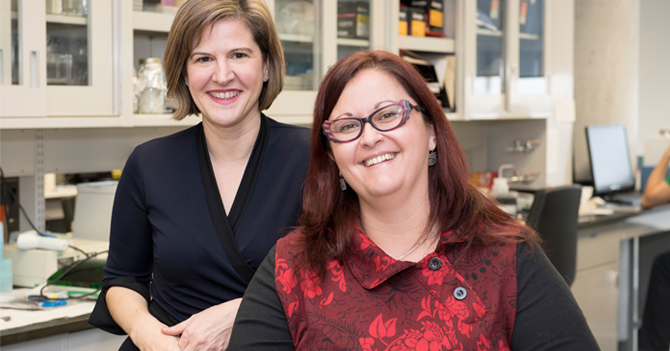 CHUM Research Centre researchers
Marie-Josée Hébert
and
Mélanie Dieudé
were chosen "Personalities of the Year in the Science Sector" by the newspaper La Presse.
The daily devoted an article to them on December 31, 2017, after having previously named them
"La Presse's Personalities of the Week" on April 16, 2017.
They earned this honour for a discovery they made that could potentially revolutionize organ transplants, and for which they were awarded the CRCHUM's Research Award of Excellence in the "2016 scientific contribution of the year" category.
"We very humbly accept this honour on behalf of all our collaborators in the Canadian National Transplant Research Program, our students, and, most of all, on behalf of donors and their families as well as patients, transplant recipients and those on the transplant waiting list," stated Dieudé, a research associate at the CRCHUM.
With the collaboration of the Canadian National Transplant Research Program, Hébert and Dieudé unlocked the mystery of the language of the organs. They discovered a new cell structure responsible for organ rejections that have been unexplainable up to now. Before an organ transplant, doctors check to see that the donor and recipient are compatible. Despite these precautions, approximately one out of ten organ transplants is rejected.
"We found the mechanism that causes a person to react against components of its own blood vessels before even receiving an organ transplant. We also identified a medication that can prevent this type of rejection," explained Dr. Hébert, who, in addition to being a nephrologist specializing in transplants, a CRCHUM researcher and a professor of medicine, is the Vice-Rector for Research, Discovery, Creation and Innovation at the Université de Montréal.
This breakthrough, published in Science Translational Medicine in December 2015, could improve medical transplant practice by changing the rejection risk assessment for people receiving a heart, lung, kidney or liver transplant.