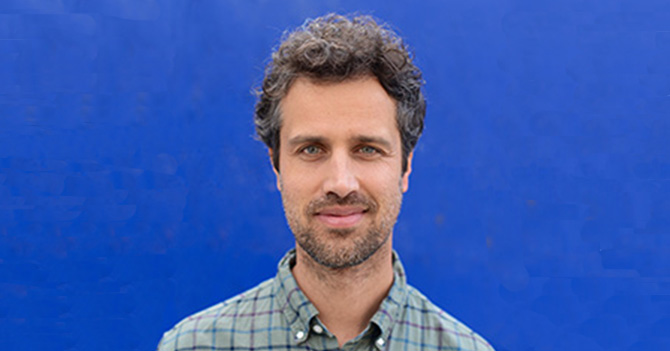 On Friday, October 4, 2019, the CRCHUM Conferences will host Eric Olaf Potma, professor of chemistry at the University of California.
Abstract
Born and raised in the Netherlands, Eric Potma got his Masters at the University of Groningen in 1996. He stayed five more years for his graduate research, which he completed in 2001. While working in the ultrafast spectroscopy group of Prof. Douwe Wiersma, Eric focused his research on the development of laser sources for microscopy and the application of nonlinear methods to optical imaging. In 2001, Potma joined the group of Prof. Sunney Xie at Harvard University as a postdoctoral fellow. During this time, he was been involved with projects on synchronizing mode-locked lasers, visualizing lipid bilayers with CARS microscopy and vibrational imaging of tissue in vivo at video rate. In 2005, Eric joined the Department of Chemistry at the University of California in Irvine, where he currently is a Professor of Chemistry. His group focuses on the characterization of nano-structured materials and biological tissues with the aid of new optical imaging techniques.
This conference will be presented in English.
Friday, October 4 at noon
Auditorium of the CRCHUM , R05.210 and R05.220
900 Saint-Denis Street, 5th floor
Montreal (Quebec), H2X 0A9
Eric Olaf Potma, Ph.D.
Professor of chemistry, University of California
About CRCHUM Conferences
The CRCHUM Conferences are free weekly meetings featuring renowned scientific speakers from various disciplines. These conferences are accredited by the Royal College of Physicians and Surgeons of Canada as continuing professional development activities.

About our scientific activities
> Schedule of the CRCHUM Conferences and the scientific activities at the CRCHUM (in French)