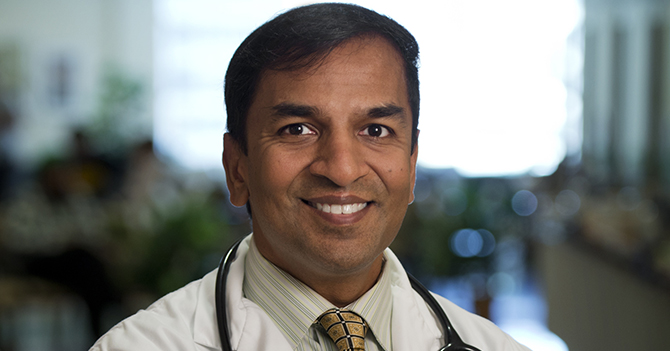 On Friday, February 8, 2019, the CRCHUM Conferences will host Atul Humar, professor of the medicine department at the University of Toronto.
Abstract
CMV is one of the most common viral infections after transplantation.  Prevention includes prophylaxis and pre-emptive  strategies each with its pros and cons.  New methods of prediction should help refine CMV prevention strategies and new antiviral drugs will help decrease the burden of CMV post-transplant.  Many exciting developments are occurring in the field of CMV management.
Guest of the transplant symposium of the Montreal University. Axe Immunopathology.
This conference will be presented in English.
Friday, February 8, at noon
Auditorium of the CRCHUM , R05.210 and R05.220
900 Saint-Denis Street, 5th floor 
Montreal (Quebec), H2X 0A9
Atul Humar, M.D., M.Sc.
Professor, Medicine, University of Toronto
Director, Multi Organ Transplant Program, University Health Network
About CRCHUM Conferences
The CRCHUM Conferences are free weekly meetings featuring renowned scientific speakers from various disciplines. These conferences are accredited by the Royal College of Physicians and Surgeons of Canada as continuing professional development activities. 
 
About our scientific activities
> Schedule of the CRCHUM Conferences and the scientific activities at the CRCHUM (in French)