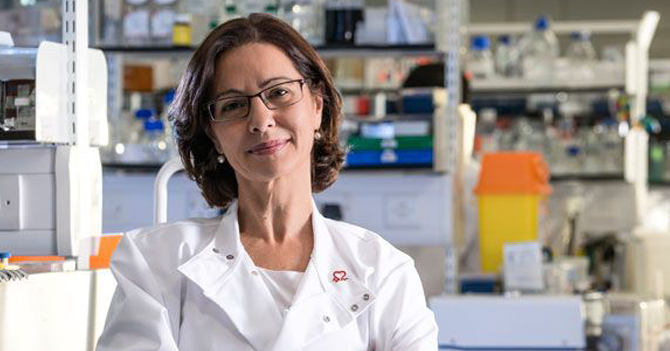 This conference is postponed to a later date.
To launch the 2022 season of the CRCHUM Conferences, on january 14 we will welcome Professor Rhian M. Touyz, Executive Director and Chief Scientific Officer of the MUHC Research Institute.
Her research focuses on molecular and vascular biology of hypertension and target organ damage, particularly: 1) vascular signaling and redox biology; 2) vascular biology of cations and TRPM channels; 3) cardiovascular toxicity of anti-cancer drugs, 4) pathophysiology and management of human hypertension.

---
FRIDAY, JANUARY 14, 2022 – 12 P.M. TO 1 P.M.
*You will receive a confirmation email containing the information you need to join the meeting.

Professor Touyz is a world-renowned expert in vascular biology and hypertension, a prolific clinician scientist and a generous and inspiring mentor. In the fall of 2021, she joined the MUHC's management team. A Canadian citizen, she returned to Quebec after spending ten years in Glasgow, Scotland (U.K.).
Until September 2021, she was the Director of the Institute of Cardiovascular & Medical Sciences (ICAMS) and British Heart Foundation (BHF) Chair and Professor of Cardiovascular Medicine, Univ of Glasgow. From 2005-2011 she held a Canada Research Chair in Hypertension (Tier 1). She is a clinician scientist with an interest in molecular and vascular mechanisms of hypertension, and her research spans molecular to clinical studies.
Dr Touyz graduated with her BSc (Hons) (1980), MBBCh (1984), MSc (1986) and PhD (1992) from the University of Witwatersrand, South Africa. She completed a post-doctoral fellowship at the IRCM, Montreal. She has received numerous awards, including: Dahl Award, Harriet Dustan Award, Hypertension Research Excellence Award (Council on hypertension, AHA), Robert M. Berne Award (American Physiological Society), RD Wright Award (BPRC, Australia), Irvine Page Award (ASH), Joan Mott Award (Physiology Society). She is the incoming editor-in-chief

Guest of Vincent Poitout
Scientific director, CRCHUM
CHUM, Research director
This conference will be in english

We look forward to seeing you connected in large numbers!

---
ABOUT CRCHUM CONFERENCES
The CRCHUM Conferences are free weekly meetings featuring renowned scientific speakers from various disciplines.
> Schedule of the CRCHUM Conferences