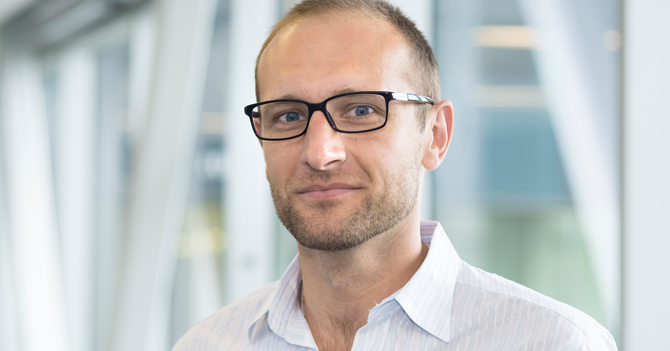 This Friday, May 6, we will welcome Greg FitzHarris, principal scientist of the Immunopathology research theme at the CRCHUM. He is a full professor in the Department of Obstetrics and Gynaecology and the Director of the Department of Pathology and Cell Biology at the Université de Montréal.
A major bottleneck for many patients wishing to conceive and have a baby is the ability to produce eggs and early embryos competent to support development. However, the cell divisions that occur just before and after fertilisation are notoriously chaotic, which leads to non-viable embryos and poses a major challenge to many patients. Our lab tries to understand why these cell divisions are so error prone using a variety of modern cell biology approaches, including extensive live imaging of early development. We aim to understand the fragile nature of early mammalian development with the ultimate goal of increasing the availability of high quality embryos for fertility patients.

---
FRIDAY, MAY 6, 2022 – 12 P.M. TO 1 P.M.
The conference will be in hybrid mode.
You can come to the CRCHUM amphitheatre on the 5th floor of Pavilion R, R05.212 A and B or you can register on Zoom.

Greg FitzHarris completed his PhD at University College London (UCL) and Postdoc-ed at University of Ottawa, before setting his lab up back at UCL in 2007. Greg moved the lab to the CRCHUM research center at the University of Montreal in 2014. Greg FitzHarris is full professor in the Department of OBGYN, and Director of the Department of Pathology and Cell Biology at University of Montreal, and also is one of the two Editors in Chief of the journal REPRODUCTION.
Greg's lab is interested in the cellular basis of fertility, particularly focussing on the health of cell divisions in the oocyte and embryo. We work on mouse and human eggs and embryos, and employ modern cell biological approaches including gene manipulation and cutting edge imaging. Recent advances from the lab have been published in journals such as Developmental Cell, PNAS, Nature Communications, and Current Biology.
Guess of Emmanuelle Brochiero, Immunopathology theme
---
ABOUT CRCHUM CONFERENCES
The CRCHUM Conferences are free weekly meetings featuring renowned scientific speakers from various disciplines.
> Schedule of the CRCHUM Conferences