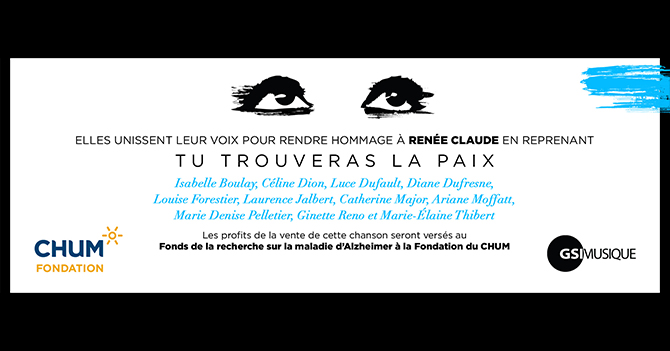 The Centre hospitalier de l'Université de Montréal and its Foundation, GSI Musique, and the host Monique Giroux are joining forces to pay tribute to Renée Claude, a renowned performer who has marked Québec culture. Eleven singers from Quebec gave their voices to perform together the hit song, "Tu trouveras la paix" to raise funds for research on Alzheimer's disease. The 79-year-old singer has been suffering from this disease for some years now.
The proceeds from the sale of Tu trouveras la paix will go to the Alzheimer's Research Fund to support the work of researchers Nicole Leclerc and Karl Fernandes at the CHUM Research centre.
Many advances in the early detection of Alzheimer's disease have been made. However, much work remains to be done on identifying the specific needs of women with the disease. About two-thirds of people over 65 with Alzheimer's are women.
Nicole Leclerc is particularly interested in conducting her research on understanding the process of neurodegeneration observed in the disease and the mechanisms of propagation of the pathology of 'tau' protein in the brain of Alzheimer's patients. Dr. Fernandes, who holds the Canada Research Chair in Neurobiology of Stem Cells, strives to understand how adult neural stem cells found in specific areas of the brain are altered in Alzheimer's disease and by what mechanisms the aggravating factors of Alzheimer's disease act.
According to the Alzheimer Society of Canada, 564,000 Canadians have Alzheimer's disease or cognitive disease. About 25,000 new cases are diagnosed each year. It is expected that there will be 937,000 cases by 2031.