Ph.D.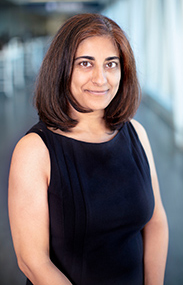 CHUM Research Centre
Associate Professor
School of Rehabilitation, Faculty of Medicine, University of Montreal
Chairholder
Canada Research Chair in Innovation and Technology for Youth Mental Health Services
Contact
shalini.lal@umontreal.ca
514 890-8000, ext. 31676
The patient who needs immediate assistance should not communicate directly with the researcher. Instead, they should call the doctor's office or take other appropriate measures, such as going to the nearest emergency service.
Other affiliations
Associate Researcher
Douglas Mental Health University Institute
Keywords
Youth mental health services; virtual care, telepsychiatry, digital mental health, e-mental health; review methodologies (e.g., rapid reviews, scoping reviews); knowledge translation and implementation science; mixed-methods, pilot, and feasibility studies; qualitative, participatory, arts-based methods; recovery, well-being, resilience.
Research interests
Improving access and quality of youth mental health interventions and services:
Development, implementation, and evaluation of innovative models to increase access to mental health care for youth and their families
Leveraging information and communication technologies to support and augment the delivery of mental health care to youth and their families
Knowledge translation and implementation science
Mental health policy and mental health service delivery
Understanding the impact of services on youth resilience, recovery, and service engagement based on patient and family perspectives
Program evaluation, stakeholder engagement, and participatory research leveraging qualitative, quantitative, arts and technology-based methods
Shalini Lal's research program focuses on youth mental health, services, and technology. Her research is supported by a prestigious Canada Research Chair in Innovation and Technology for Youth Mental Health Services, and previous to that by New Investigator Salary Awards from the Canadian Institutes of Health Research and Quebec's Health Research Funding Agency (FRQS). Her research aims to improve mental health service delivery using peer-based, psychosocial, lifestyle/wellness, and artistic approaches. She also conducts research on the impact of services on youth mental health, the process of recovery, the development of resilience, and service engagement. Mixed-methods research, leveraging qualitative and participatory methods are used in her work.
Shalini Lal is involved in research projects with collaborations in Canada, India, and Australia, and is one of the Principal Leads of ACCESS-Canada, a pan-Canadian network that is implementing and evaluating service transformation in youth mental health in 14 sites across Canada. This network was funded by CIHR's Strategy in Patient Oriented Research (SPOR Network) ($25 million over five years). She is also the principal investigator of PRISM-ACCESS Open Minds (Rapid Internet-based self-referral pathway to youth mental health services) funded by the Canadian Institutes of Health Research and the Graham Boeckh Foundation, and Horyzons-Canada, originally funded through the U.S.-based Brain and Behaviour Foundation.
Publications