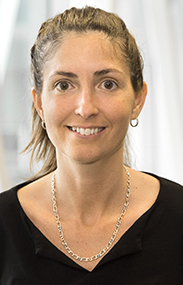 CHUM research centre
Specialized care consultant - Neurological sciences
Nursing direction, CHUM
Contact
isabelle.sevigny.chum@ssss.gouv.qc.ca
514 890-8000, ext. 22136
The patient who needs immediate assistance should not communicate directly with the researcher. Instead, they should call the doctor's office or take other appropriate measures, such as going to the nearest emergency service.
Other affiliations
Member
Ordre des infirmières et infirmiers du Québec (OIIQ)
Keywords
Nursing, chronic and neurological diseases, clinical judgment, clinical leadership.
Research interests
Management of chronic and neurological diseases (Parkinson's, epilepsy, stroke, dementia, ALS, etc.), experience of patients and their families, knowledge transfer, development of judgment or clinical leadership, various nursing roles.