M.D.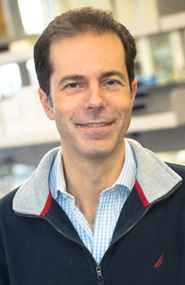 CHUM Research Centre
Internist and infectious disease specialist
Department of Medicine, CHUM
Full professor
Department of medicine, Université de Montréal
Contact
daniel.kaufmann@umontreal.ca
514 890-8000, ext. 35261

The patient who needs immediate assistance should not communicate directly with the researcher. Instead, they should call the doctor's office or take other appropriate measures, such as going to the nearest emergency service.
Other affiliations
Member
The American Society for Clinical Investigation
Investigateur principal de projet
Scripps Center for HIV/AIDS Vaccine Immunology & Immunogen Discovery (CHAVI-ID)
Keywords
HIV, immune responses, CD4 T cells, immune exhaustion, viral reservoirs, HIV Vaccines
Research interests
I am a physician scientist with expertise in immunobiology of human immunodeficiency virus (HIV) infection. My laboratory primarily focuses on the role of CD4 T cells to combat or prevent this viral disease. The three major areas of research are:
i) The understanding of effective CD4 T cell help in anti-HIV immunity.
ii) The causes of T cell impairment in HIV infection.
iii) The links between differentiation and regulation of CD4 T cells and their role as viral reservoirs.
We are interested in mechanisms that control the functional plasticity of CD4 T cells in and regulate the impairment of Thelper responses, with the ultimate goal of facilitating development of therapeutic strategies or vaccines to improve immune function. We have made major contributions to the understanding of T cell exhaustion in HIV infection, in particular on the roles played by the PD-1, CTLA-4 and IL-10 pathways. We have delineated differences in mechanisms of immune impairment between CD4 and CD8 T cells. We have established new flow cytometric RNA fluorescent in situ hybridization (RNA-FISH) assays to detect specific genes in peripheral blood and lymphoid tissues as well as to characterize viral reservoirs at the single-cell level. Our laboratory has also developed a wide array of techniques, including innovative approaches to characterize HIV-specific CD4 and CD8 T cell differentiation and function.
Publications
Publications indexed on PubMed
Publications indexed on ResearchGate
News
Quebec COVID Biobank: CRCHUM Teams on the Front Lines
HIV antibody therapy is associated with enhanced immune responses in infected individuals
HIV: holes in the immune system left unrepaired despite drug therapy