M.D.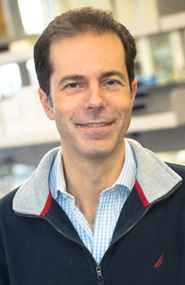 CHUM Research Centre
Infectious disease specialist
Department of Medicine, CHUM
Full professor
Department of medicine, Université de Montréal
Contact
daniel.kaufmann@umontreal.ca
514 890-8000, ext. 35261

The patient who needs immediate assistance should not communicate directly with the researcher. Instead, they should call the doctor's office or take other appropriate measures, such as going to the nearest emergency service.
Other affiliations
Merit Research Scholar
FRQS
Keywords
HIV/AIDS
SARS-CoV-2/COVID-19
Immune responses
Immunopathogenesis
T cells
Immune exhaustion
Viral reservoirs
Antiviral vaccines
Research interests
I am a physician-scientist with expertise in human immunovirology. My laboratory conducts bench research oriented towards clinical translation. We apply a wide array of cutting-edge technologies and analytical approaches to address knowledge gaps in HIV and SARS-CoV-2 infections. Our major areas of research are:
i) The molecular basis of T cell impairment in HIV infection, with an emphasis on altered differentiation and immune exhaustion.
ii) The understanding of effective CD4 T cell help in anti-HIV immunity, and the assessment of immunotherapeutic strategies, in particular broadly neutralizing antibodies, to modulate such responses.
iii) The links between differentiation and regulation of CD4 T cells and their role as viral reservoirs, both in humans and in animal models.
iv) The immunovirological determinants of severe COVID-19 disease and of sustained antiviral immunity after clinical recovery.
v) The dynamics of protective immunity induced by SARS-CoV-2 vaccines, and the defects in responses associated with breakthrough infections, in particular in immunocompromised individuals.
The overarching goal of these studies is to better understand protective and detrimental immune responses in major viral infections, which could spur development of new therapeutic or prophylactic approaches. My laboratory provides a dynamic and collaborative research environment, with excellent opportunities for training in diverse experimental and analytical approaches, this at the undergraduate, MSc, PhD and postdoctoral levels.
Publications
News
Measuring viral RNA to predict which patients will die
Quebec COVID Biobank: CRCHUM Teams on the Front Lines
HIV antibody therapy is associated with enhanced immune responses in infected individuals
HIV: holes in the immune system left unrepaired despite drug therapy