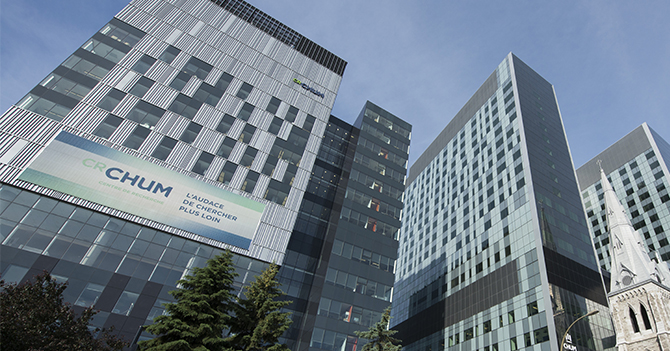 Although the pandemic has taken media outlets by storm in recent months and has limited our conversation repertoire to an endless stream of COVID-19 topics, we shouldn't forget that science is multifaceted and, most importantly, a human endeavour.
The CRCHUM recently welcomed four new regular researchers who will consolidate its expertise in the fields of neuroscience, cardiometabolics, engineering and imaging.
Here's an overview of these new faces that you might occasionally come across while walking through the corridors of the Research Centre.

Detecting and Predicting Epileptic Seizures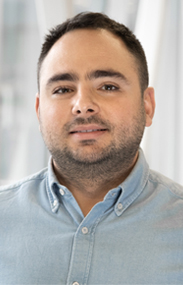 A specialist in physiological signal processing and artificial intelligence, Elie Bou Assi has joined the Neuroscience Research Theme, where he will continue his research into artificial intelligence and connected objects in order to improve the management of neurological and psychiatric disorders.
His work currently focuses on the detection and prediction of epileptic seizures, the automatic classification of routine electroencephalographic signals, and the detection of depression and anxiety using surface electroencephalographic signals.
The recruitment of Elie Bou Assi, who holds a PhD in biomedical engineering from Polytechnique Montréal, rounds out the expertise of the Neuroscience Research Theme and strengthens the CRCHUM's and the CHUM's positions as pioneers in the field of artificial intelligence applied to health, particularly in the analysis of complex clinical data related to pathologies of the nervous system.
The CRCHUM will surely provide fertile ground for the implementation of Elie Bou Assi's research program, given the large quantities of clinical data that the centre has accumulated.

Decrypting the Biological Mechanisms of Stress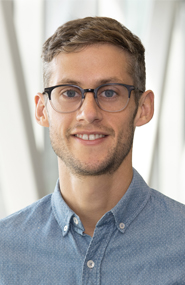 The Cardiometabolics Research Theme can now count on the expertise of Ciaran Murphy-Royal to better understand the effects of stresses on synaptic activity.
From Dublin to Calgary with a detour to Bordeaux for his doctoral studies in neuroscience, this young researcher has been places, a bit like his knowledge, which is boundless.
At the CRCHUM, he and his team will be investigating the role of non-neuronal cells such as astrocytes in behavioural disorders related to chronic stress. His goal is to understand the impact of stress on astrocytes to determine whether these cells could be a therapeutic target for anxio-depressive disorders.
Thanks to state-of-the art imaging techniques combined with genetic and physiological approaches, Ciaran Murphy-Royal and his colleagues could identify new targets that would help mitigate the negative effects of stress, a known factor in the development of mental health disorders.
The quality of the research work conducted in the fields of neuroscience and metabolism at the CRCHUM, the wide diversity of research themes and the proximity of the hospital should allow the researcher to have an impact on the health of Canadians.

Rare Diseases: Giving a Voice to Precision Medicine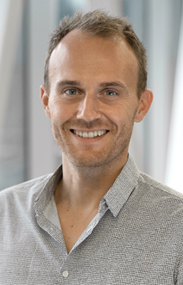 As for Éric Samarut, he is currently pursuing a career as a regular researcher with the Neuroscience Research Theme, which had welcomed him in 2014 as a postdoctoral fellow.
Armed with a PhD in molecular and cellular biology from the University of Strasbourg, he will continue to explore a new area of research using zebrafish: functional genomics of rare neurological and metabolic disorders.
His research work could ultimately pave the way for new therapeutic strategies for genetic diseases. More specifically, Éric Samarut plans to use patient-specific zebrafish models, which should catalyze the development of precision medicine in this research area.
Through the close ties that unite the CHUM and the CRCHUM, the researcher will have an opportunity to collaborate with distinguished clinicians and geneticists and to translate patient data into research projects having a strong impact on patient quality of life.

Mechanical Ventilation: A Detection Tool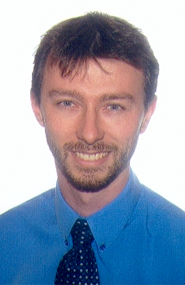 An anesthesiologist and intensive care physician at the CHUM since 2009, Dr. Martin Girard holds a Master of Biomedical Science (Université de Montréal). His research program aims to provide doctors with an easy-to-use, bedside-accessible tool for detecting excessive lung deformation during mechanical ventilation.
Used frequently in operating rooms and intensive care units, mechanical ventilation is needed during surgery and is sometimes essential in saving patients' lives. When poorly fitted, the air delivered by a mechanical ventilator can cause excessive lung deformation and lung injury and can jeopardize the patient's clinical outcome.
Through his research work, Dr. Girard hopes to improve the safety of mechanical ventilation by using commonly used ultrasound equipment and to ultimately change clinical practices.