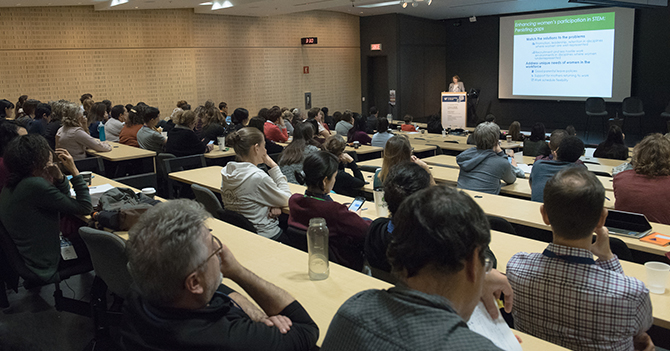 The contribution women make to the field of science was the featured theme at the 10th Scientific Day held by the CHUM Research Centre (CRCHUM) on October 17, 2019. "The CRCHUM is a very welcoming environment for women and we wanted to highlight the women researchers at our centre and working elsewhere in Canada," explained Lise Gauvin, chairperson of the event's organizing committee and Associate Scientific Director for Population Health Research at the CRCHUM, to a packed audience.
The speakers, all inspirational figures in the field of health research, captivated the audience with presentations on their research into cancer, immunotherapy in particular, which represents a true revolution in cancer treatment progress. Themes such as the use of rare immune cells to cure autoimmune disorders, melanoma research, the origins of acute lymphoblastic leukemia, ovarian cancer, and patient partnerships demonstrated how research has progressed and changed.
During the lunch break, participants could not only network with peers, but also meet up-and-coming experts. 37 graduate and postdoctoral students, fellows and residents from the CRCHUM and CHUM presented their research, using touch screens, in the agora adjacent to the auditorium. One of them told us that getting out of their laboratory to talk to the scientific community about their research was highly motivating.
Many attendees were excited about the afternoon's events, including a panel discussion, moderated by Carole Jabet, Scientific Director of the Fonds de recherche du Québec – Santé, in which panellists shared with the audience their thoughts related to the theme Fostering agility and innovation in research: Women's perspectives. The panellists emphasized the need to build mutual trust among researchers, to create a network of peers and mentors, to dare to challenge the norm and to support young people, regardless of their gender, in their academic careers so that science can be seen as an exciting professional option.
Then came the highly anticipated talk given by the guest speaker of the day, Mona Nemer, Chief Science Advisor to Canada's Prime Minister, Minister of Science and Cabinet. She emphasized the importance of women having access to science. "Having more science is a societal endeavour, not a women's issue," she affirmed, mentioning that most jobs in the future will depend on science. Noting that an increasing number of people don't trust science, she invited researchers to take on more public engagements to make their work more visible. In recognition of her contribution to science, Vincent Poitout awarded Ms. Nemer the title of honorary CRCHUM researcher.
The director of the CRCHUM also presented scholarships, each valued at $500, to 5 students who had given outstanding presentations of their research during the lunch break. We would like to congratulate
Simon Michon, master's student
Romane Manceau, Yunuen Cervantes Spinosa and Caroline Dufour, doctoral students, and
Anne Laure Castel, postdoctoral fellow.
In addition, three researchers were the joint recipients of the Prix des Bâtisseuses, in recognition of their outstanding contribution to research at the CHUM and their leadership in breaking down the barriers between basic research and clinical research, between disciplines and institutions. We would like to congratulate
The day came to a close with words of wisdom from Vincent Poitout: "When all is said and done, we should not even have to discuss issues of gender, culture or backgrounds. I hope that in a few years, we will no longer need to talk about them. Science is a human enterprise, not just a man's affair."