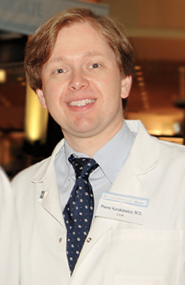 CHUM Research Centre
Urologic oncologist
CHUM
Director
Cancer Prognostics and Health Outcomes Unit, CHUM
Full Professor
Department of Surgery, Université de Montréal
Website: www.nomogram.org
Contact
pierre.karakiewicz@umontreal.ca
514 890-8000, ext. 35336
The patient who needs immediate assistance should not communicate directly with the researcher. Instead, they should call the doctor's office or take other appropriate measures, such as going to the nearest emergency service.
Keywords
Urologie oncologique, cancer de la prostate, marqueurs pronostiques, cancer du rein, cancer de la vessie, marqueurs.
Research interests
Oncological urology, prostate cancer, prognostic markers, kidney cancer, bladder cancer, markers.
Publications