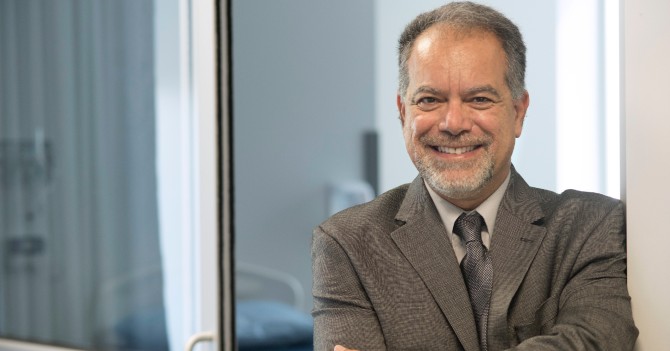 At the CRCHUM conference on September 18, from 12 p.m. to 1 p.m., we will have the pleasure of welcoming Dr. Fred Saad, Professor and Chairman of Urology and Director of G-U Oncology at the University of Montreal Hospital Center (CHUM). He holds the Raymond Garneau Chair in Prostate Cancer Research at Université de Montréal and is Director of clinical research and the molecular oncology research laboratory in Prostate Cancer at Institut cancer de Montréal.
Dr. Saad has played a leadership role and been a co-author on many of the practice changing clinical trials and publications in advanced prostate cancer over the last 20 years. He presently sits on 7 steering committees of ongoing international clinical trials and serves on several guideline committees. He is a member of several editorial boards, including Lancet Oncology, JAMA Oncology, Nature Urology, Genitourinary Cancer, CUAJ and Urology. He has published over 600 peer-reviewed articles and with an h-factor of over 120 and over 70,000 citations he is listed as one of the world's most cited clinician-scientists.
Dr. Saad's research interests include novel therapeutics in prostate cancer, molecular prognostic markers and mechanisms of progression. He has over 40 clinical and basic research projects ongoing and has received over 40 million dollars in research grants. His numerous awards include the lifetime achievement award from the CHUM Research Center, Lifetime Achievement Award from the Quebec government.

---
FRIDAY, SEPTEMBRE 18, 2020 – 12 p.m. to 1 p.m.
*You will receive a confirmation email containing the information you need to join the meeting.

Fred Saad, M.D., FRCS
Chef, Unité d'urologie au CHUM
Directeur médical, Regroupement interdisciplinaire d'urologie oncologique, CHUM
Directeur de recherche en cancer de la prostate, Institut du cancer de Montréal au CRCHUM
Professeur titulaire, Département de chirurgie, Université de Montréal

Invited by Réjean Lapointe
Cancer theme
We look forward to seeing you connected in large numbers!
The conference will be recorded and subsequently made available on the YouTube page of the CHUM Research Center.

---
ABOUT CRCHUM CONFERENCES
The CRCHUM Conferences are free weekly meetings featuring renowned scientific speakers from various disciplines.
> Schedule of the CRCHUM Conferences