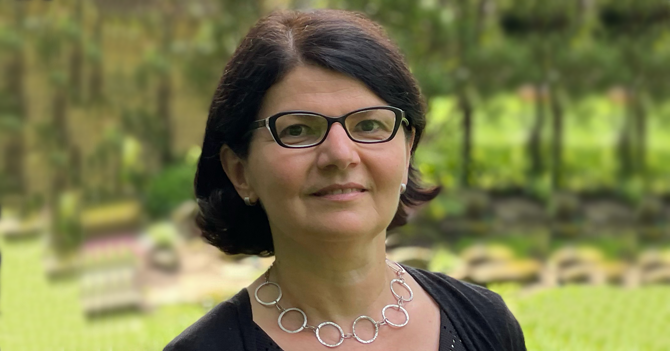 For the CRCHUM conference on January 28, 2022, we are welcoming Maia Kokoeva, Associate professor at MC Gill University.
Professor Maia Kokoeva and her team recently discovered that blood vessel-enwrapping hypothalamic pericytes express the leptin receptor (LepR) and that selective ablation of pericytic LepR leads to overeating and a loss of leptin responsiveness in hypothalamic LepR neurons (Butiaeva et al, Cell Metab, 2021). Collectively, our data supports the view that LepR pericytes regulate blood vessel permeability in a leptin dependent manner.

---
FRIDAY, JANUARY 28, 2022 – 12 P.M. TO 1 P.M.
*You will receive a confirmation email containing the information you need to join the meeting.

Maia Kokoeva completed her undergraduate studies at the Department of Biology, Lomonosov Moscow State University and obtained her Ph.D. degree from the Russian Academy of Sciences, Moscow. During her first postdoctoral fellowship at the Max Planck Institute for Biochemistry in Martinsried/Munich, Germany, under the supervision of Dr. Dieter Oesterhelt, she investigated sensory signal transduction in the archaeon Halobacterium salinarum. By employing molecular genetic techniques in conjunction with behavioral analysis, she uncovered the signaling pathways that mediate the chemotactic responses to a variety of chemical attractants including several amino acids. She then joined the laboratory of Dr. Jeffrey Flier at Harvard Medical School to continue her postdoctoral training with a focus on central regulation of energy balance in the mammals. Pr. Kokoeva was intrigued by the observation that obese rodents and humans treated with the neuropeptide ciliary neurotrophic factor (CNTF) show a reduction in body weight that is sustained well beyond termination of treatment, a phenomenon not seen with any other weight lowering drug. In an attempt to elucidate the mechanistic basis for this effect, she discovered that CNTF potently stimulates neurogenesis in adult hypothalamic structures that are important for the regulation of energy balance. Maia Kokoeva was appointed Assistant Professor at the Department of Medicine of McGill University in summer 2008.
Guest of Christine Vande Velde
Neurosciences Theme


We look forward to seeing you connected in large numbers!

---
ABOUT CRCHUM CONFERENCES
The CRCHUM Conferences are free weekly meetings featuring renowned scientific speakers from various disciplines.
> Schedule of the CRCHUM Conferences