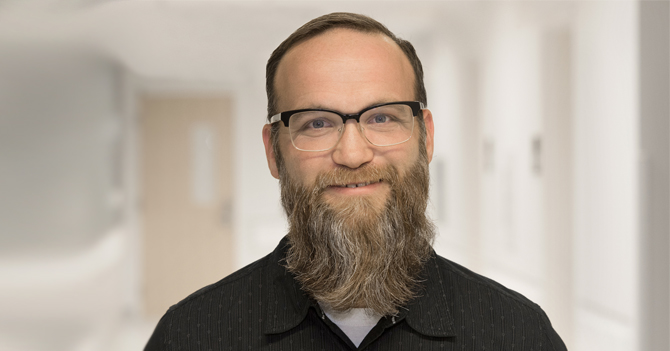 At the conference scheduled for April 30th, we will hear from Jean-François Carrier, a researcher with the CRCHUM's Imaging and Engineering Research Theme.
Brachytherapy, which consists of inserting radioactive sources into or near tumours to irradiate them, is a rather common technique used at our clinics. However, the radiation dose calculation method specific to brachytherapy has changed very little over the past 25 years. This conference will present the challenges related to calculating doses in brachytherapy and will offer a glimpse into certain new developments in this field: diffusing alpha-emitters, clinical shift to model-based calculations and Boltzmann solver calculation.

---
FRIDAY, APRIL 30, 2021 – 12 P.M. TO 1 P.M.
*You will receive a confirmation email containing the information you need to join the meeting.

Jean-François Carrier is a physics professor at the Université de Montréal, a regular CRCHUM researcher and a medical physicist in radiation oncology at the CHUM. He holds the TransMedTech chair in medical imaging. His research interests are: alpha particle brachytherapy, quantitative imaging by positron emission tomography, dosimetry using a Boltzmann solver and emerging radiation therapy techniques. He received a master's in physics from Cornell University in 2002 and a doctorate in medical physics from Université Laval in 2005

Invited by Jacques de Guise
Imaging and Engineering Theme

We look forward to seeing you connected in large numbers!

---
ABOUT CRCHUM CONFERENCES
The CRCHUM Conferences are free weekly meetings featuring renowned scientific speakers from various disciplines.
> Schedule of the CRCHUM Conferences