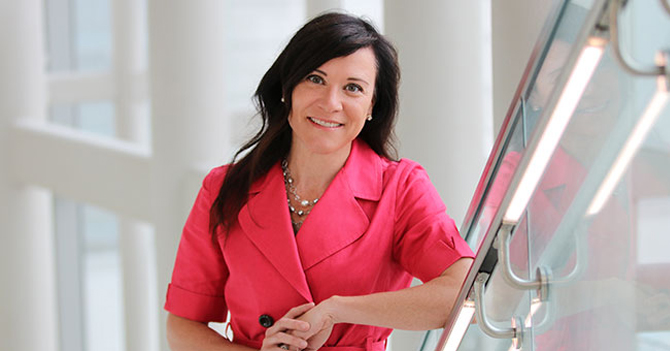 On Friday, April 8, Pr. Daryl A. Bosco will be our guest at the CRCHUM Conferences. She is professor of Neurology at UMass Chan Medical School.
Disease-linked genetic mutations alter various properties of the encoded proteins, including protein structure, solubility, cellular localization and function. Although protein dysregulation is a common feature across most neurodegenerative diseases, disease-linked proteins become dysfunctional through diverse mechanisms. To exemplify this theme, Pr. Bosco will present recent work from my laboratory on profilin-1 (PFN1) and fused in sarcoma (FUS), two proteins that become dysregulated and cause amyotrophic lateral sclerosis, yet the effect of disease-linked mutations on the physicochemical properties of these proteins is very different.

---
FRIDAY, APRIL 8, 2022 – 12 P.M. TO 1 P.M.
*You will receive a confirmation email containing the information you need to join the meeting.

The goal of Darryl Bosco's research is to elucidate the molecular mechanism(s) underlying the pathogenesis of amyotrophic lateral sclerosis (ALS) and frontotemporal dementia (FTD). During her doctorate at Brandeis University, she was trained in protein chemistry, and studied protein structure and dynamics using NMR spectroscopy. She then carried out a postdoctoral fellowship at the Scripps Research Institute in the laboratory of Dr. Jeffery W. Kelly, where she began working on protein-misfolding diseases with a focus on Parkinson's disease-related alpha-synuclein. Prior to starting her independent lab, Pr. Bosco was an Instructor at Harvard Medical School in the laboratory of Robert H. Brown, Jr., where she began her work on both translational and basic-science aspects of ALS. Pr. Bosco currently leads a multidisciplinary research program at UMass Chan Medical School in the Department of Neurology, where her lab uses cell-based (i.e., CNS cell-types derived from human induced pluripotent stem cells), in vivo models of disease, and in vitro biochemical and biophysical methods to investigate the normal and pathogenic functions of multiple ALS/FTD-linked genes.
Guest of Christine Vande Velde, Neuroscience Research Theme

We look forward to seeing you connected in large numbers!
---
ABOUT CRCHUM CONFERENCES
The CRCHUM Conferences are free weekly meetings featuring renowned scientific speakers from various disciplines.
> Schedule of the CRCHUM Conferences