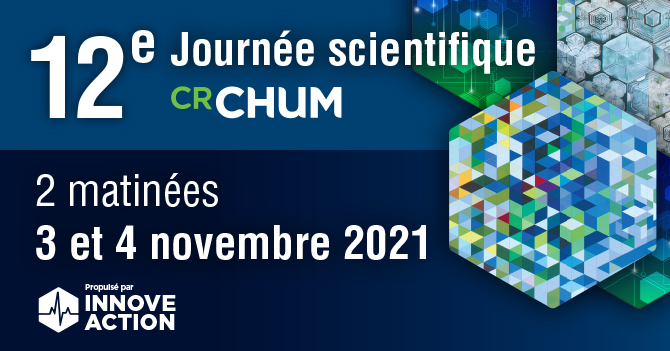 You are all invited to participate in the CRCHUM's 12th annual Scientific Day which will take part over two virtual mornings on November 3 and 4, 2021.
It is an opportunity for the entire scientific community to listen to the scientific breakthroughs of inspiring figures in health research. You will have the opportunity to listen to researchers, students and renowned guests.
This year our guest of honor is Dr. Fabiola Gianotti, Director General of the European Organization for Nuclear Research (CERN).
The theme is: Cohesive and adhesive forces, from the atom to the treatment.
Discover the program of the 12th edition.
Register quickly, places are limited!
---
ON THE AGENDA:
November 3
Session 1: Progress in spectral imaging
Hugo Bouchard and Anthony Butler, Co-founder, Mars Bioimaging LTD
Session 2: Focus on neuroscience
Ciaran Murphy-Royal and Dang Khoa Nguyen
And of course, our guest of honor:
Dr Fabiola Gianotti, Director General of the CERN.
November 4
Session 3: Particles for the benefit of oncology
Cynthia Ménard, Daniel Juneau, Houda Bahig, David Roberge and Jean-François Carrier
Session 4: When various disciplines come together to explore further
Nathalie J. Bureau, Laura Benhaïm, François Claveau, Guy Cloutier, Gabrielle Pagé, Sylvain Bédard and Quoc Dinh Nguyen
You will also have the opportunity to listen to and discover the research projects of our students for each of the themes.

Hope to see you there soon!
Vincent Poitout
Scientific Director, CRCHUM
Research Director, CHUM