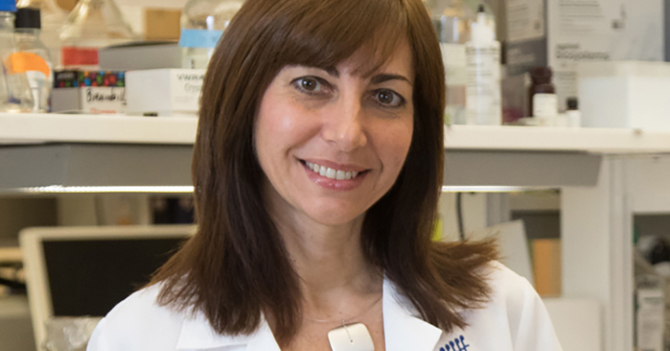 For the CRCHUM Conference we will welcome on February 19, Roberta Brambilla, an Associate Professor from the University of Miami.
Dr. Brambilla's main interest is to understand the role of neuroinflammation in the pathophysiology of neurodegenerative disorders like multiple sclerosis, spinal cord injury and stroke, with a specific focus on the contribution of glial cells. In recent years she has devoted her efforts to investigating the function of tumor necrosis factor (TNF), both membrane-bound and soluble forms, in neuroimmune disease. Within this context, she is exploring the protective signaling initiated by the interaction of membrane-bound TNF with TNFR2, taking advantage of gene targeting approaches in CNS and immune cells, including astrocytes, microglia/macrophages, oligodendrocyte precursors and myelinating oligodendrocytes. She is also exploring whether oligodendrocyte-specific dysfunction plays a role in multiple sclerosis etiopathogenesis using cells iPSCs and post-mortem tissue from individuals with primary progressive MS.

---
FRIDAY, FEBRUARY 19, 2021 – 12 P.M. TO 1 P.M.
*You will receive a confirmation email containing the information you need to join the meeting.

Roberta Brambilla is an Associate Professor of Neurological Surgery at the Miami Project To Cure Paralysis, a center of excellence in neuroscience research of the University of Miami Miller School of Medicine. After obtaining her Ph.D. from the University of Milan, where she studied purinergic signaling in astrocytes, she moved to the University of Miami where she trained as a post-doc before starting her independent research lab. Here she went on to study glia-driven neuroinflammation in the context of spinal cord injury and multiple sclerosis.

Invited by Martine Tétreault and Christine Vande Velde
Neuroscience Theme

We look forward to seeing you connected in large numbers!

---
ABOUT CRCHUM CONFERENCES
The CRCHUM Conferences are free weekly meetings featuring renowned scientific speakers from various disciplines.
> Schedule of the CRCHUM Conferences