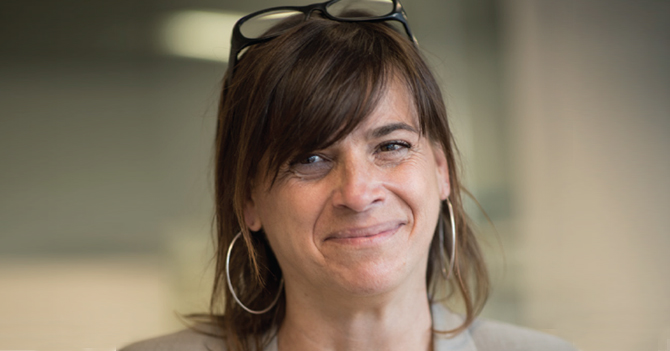 During our October 9th conference, we will welcome Sophie Layé, director and head of the NutriNeuro Institute (INRA) at the Université de Bordeaux in France (Univ Bordeaux, Bordeaux INP).
Polyunsaturated fatty acids (PUFAs) are essential fatty acids. Our organism needs them but as it cannot produce them, they have to be provided through the diet. In humans, poor levels of blood and brain n-3 PUFAs are associated to a higher prevalence of cognitive disorders and depression. However, the mechanisms underlying the effect of n-3 PUFAs on brain functions are poorly understood. Here, I will discuss recent data on how dietary n-3 PUFAs participate to brain physiology and protect from the development of mood and cognitive disorders through their effect on neuroplasticity and neuroinflammation. These knowledges open new avenues for the use of these fatty acids in the protection and treatment of brain diseases.

---
FRIDAY, OCTOBER 9, 2020 – 12 P.M. TO 1 P.M.
*You will receive a confirmation email containing the information you need to join the meeting.

Sophie Layé is the head of the NutriNeuro Institute (INRA Univ Bordeaux, Bordeaux INP) that she created in 2011. The research conducted in the Institute aims to decipher the effect of nutrition on cognitive decline and mood disorders to define a protective nutrition for the brain. She also co-heads OptiNutriBrain, an international associated laboratory, with Pr F Calon (Université Laval, Québec). Since 2019, she leads Food4BrainHealth, an international research network (Inra, CNRS, Univ Bordeaux, Univ Bourgogne, Univ Saclay, Univ Toronto, McGill, Univ Laval). Sophie is recognized for her work on the contribution of unbalanced nutrition in mood and cognitive disorders and how lipids (omega3, omega6, etc.) participate to neuroplasticity and neuroinflammation. She has been awarded by the Laurier de l'Inrae.

Invited by Thierry Alquier
Cardiometabolic theme
We look forward to seeing you connected in large numbers!

---
ABOUT CRCHUM CONFERENCES
The CRCHUM Conferences are free weekly meetings featuring renowned scientific speakers from various disciplines.
> Schedule of the CRCHUM Conferences