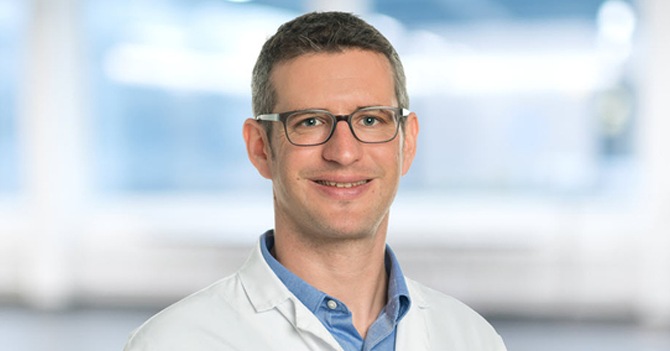 For the CRCHUM conference on February 18, 2022, we are welcoming Dr Maxime Baud, Neurologist and neuroscientist at the University Hospital of Bern, Switzerland.
The risk of seizure occurrence is not uniform over time. Rather it fluctuates due to unknown factors at multiple time-scales including circadian, multidien (over multiple days), seasonal and throughout the lifetime. Using data from implanted chronic EEG that records long-term epileptic brain activity, converging evidence shows that in many patients, children and adults alike, these fluctuations in seizure risk are rhythmic and can contribute to the accurate forecasting of seizures. At the dawn of a new era of personalized epileptology, this translational talk will focus on the clinical relevance of rhythms in epilepsy and discuss potential mechanisms.

---
FRIDAY, FEBUARY 18, 2022 – 12 P.M. TO 1 P.M.
*You will receive a confirmation email containing the information you need to join the meeting.

Dr. Maxime Baud is a neurologist and neuroscientist at Inselspital, University Hospital of Bern, Switzerland. He obtained his MD and PhD in neuroscience from EPFL, Switzerland. He then trained as a neurology resident and as a postdoctoral fellow at the University of California in San Francisco, focusing on human intracranial electrophysiology. Using long epilepsy data collected with an implanted EEG system over years, Dr. Baud unraveled the phenomenon of multidien cycles of epileptic brain activity. He is now leading surgical epileptology in Bern and carries out investigations on the mechanisms of epilepsy. He also contributes to the design and development of next-generation devices for neurology in his collaboration with the Wyss Center for bio- and neuroengineering in Geneva.
Guest of Christine Vande Velde
Neurosciences Theme


We look forward to seeing you connected in large numbers!

---
ABOUT CRCHUM CONFERENCES
The CRCHUM Conferences are free weekly meetings featuring renowned scientific speakers from various disciplines.
> Schedule of the CRCHUM Conferences