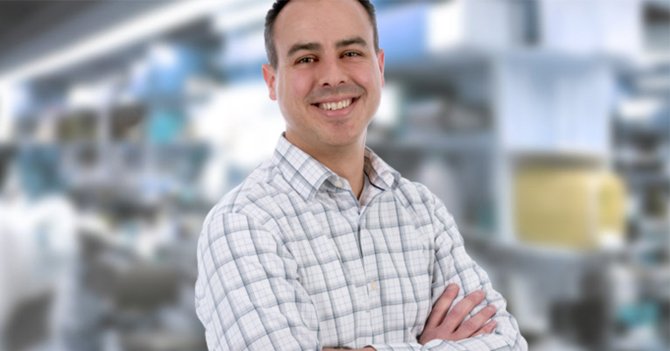 On November 12th, the CRCHUM Conference series will have the pleasure of hosting Yannick Doyon, a regular researcher at Laval University's CHU de Québec Research Centre.
Genome editing enables scientists to modify the genomic sequence of living cells in a precise and targeted manner to create bona fide cellular and animal models for biomedical research. The technology is maturing rapidly and is currently being evaluated in clinical trials aiming to correct genetic defects ex vivo and in vivo. Nonetheless, it is not a perfect technology and one of the main objectives in the field of genome editing is to identify methods that will facilitate the isolation of cells with the desired genetic outcome. Our laboratory has been developing strategies for the robust and efficient enrichment of precisely engineered cells. I will describe how we are enabling successive rounds of prime editing in human cells and developing cell-type specific co-selection strategies for cancer immunotherapy.

---
FRIDAY, NOVEMBER 12, 2021 – 12 P.M. TO 1 P.M.
*You will receive a confirmation email containing the information you need to join the meeting.

Yannick Doyon has been a regular researcher at Laval University's CHU de Québec Research Centre and a professor in the Department of Molecular Medicine at Laval University's Faculty of Medicine since September 2013. His work focuses on the development of new targeted genome engineering methods. The technology, democratized by the implementation of the CRISPR system (Science magazine's Breakthrough of the Year for 2015), is a powerful biomedical research tool and represents a new era in medicine. Yannick Doyon is one of the architects of this technology, as illustrated by his many patents and publications, and his expertise extends to both the academic and biotechnology sectors.

Invited by Réjean Lapointe
Cancer Research Theme

We look forward to seeing you connected in large numbers!

---
ABOUT CRCHUM CONFERENCES
The CRCHUM Conferences are free weekly meetings featuring renowned scientific speakers from various disciplines.
> Schedule of the CRCHUM Conferences