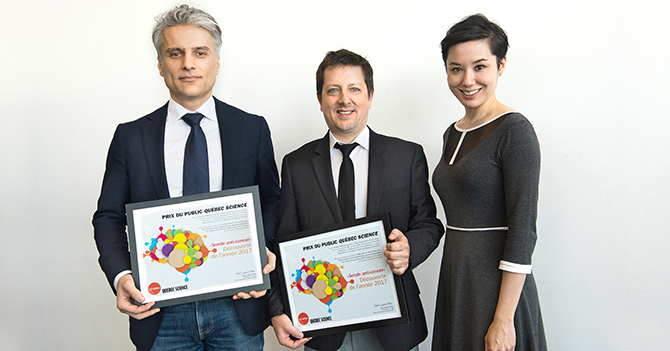 The magazine Québec Science has kept up a tradition for twenty-five years: every fall, a jury of researchers and journalists chooses the 10 most impressive discoveries of the previous year and the public is then invited to vote for their choice. This year, the
anti-cancer probe
was chosen by readers, garnering nearly a third of the 4,400 votes recorded as part of the 2017 Discoveries of the Year competition.
When surgeons remove a tumour from the brain of a patient, they do their best to take out all the cancer cells that might be surrounding it in order to avoid a recurrence of the cancer. Whether they are tumour cells or not, many cells remain undetectable by microscopy. Once the operation is over, the surgeon replaces the skull section and closes the scalp. The limitations associated with this procedure will soon be a thing of the past thanks to the anti-cancer probe, the result of a collaborative effort by researchers Frédéric Leblond, of Polytechnique Montréal and the University of Montreal Hospital Research Centre, and Kevin Petrecca, of the Montreal Neurological Institute and Hospital and the McGill University Health Centre, and many collaborators from these institutions, as well as the American company Emvision.
The size of a pencil, the probe is equipped with optical filters, sensors and lasers. During a surgical intervention, it scans brain tissue to detect residual cancer cells in a fraction of a second. It does so by stimulating cells with light and analyzing the spectral signature obtained. With a level of effectiveness close to 100%, the probe also detects cancerous colon, skin and lung cells that have metastasized to the brain.
"The cancer-cell-detecting probe acclaimed by the public and Québec Science is the result of a transdisciplinary approach that brought engineers and doctors together as part of the same team. This type of collaboration is productive and leads to technological innovations that will allow us to better treat cancer patients in the future. The recognition of the public that we are receiving today really encourages us to continue our work," asserted Leblond.
"We're honoured that our work received the title 2017 Scientific Discovery of the Year. I would like to thank all the people who voted for us and all those who took part in this research project. We are confident that this discovery will have a positive impact on the lives of people with cancer," remarked Petrecca.
"The possibility of a recurrence haunts all cancer survivors and their loved ones. This discovery offers them incredible hope. That's why this discovery struck a chord in our readers, who also said that they were amazed by the ingenuity of the tool," added Marie Lambert-Chan. Editor-in-Chief of Québec Science.
Others who participated in the discovery were Kelly Aubertin, Joannie Desroches, Marie-Christine Guiot, Andrée-Anne Grosset, Michael Jermyn, Jason Karamchandani, Wendy-Julie Madore, Eric Marple, Jeanne Mercier, Karl St-Arnaud, Mathias Strupler, Dominique Trudel and Kirk Urmey.