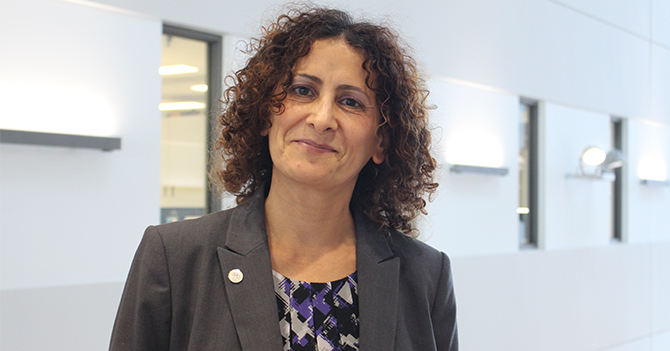 On Friday, May 10, 2019, the CRCHUM Conferences will host Rima Slim, assistant professor in the department of obstetrics and gynecology and the department of human genetics at the MUHC.
Abstract
Hydatidiform mole (HM) is aberrant human pregnancy characterized by early embryonic arrest and excessive trophoblastic proliferation. Recurrent HM (RHM) is defined by the occurrence of at least two HM in the same patient. Sixty percent of patients with RHM have biallelic pathogenic variants in NLRP7 or KHDC3L and their RHM are diploid biparetnal.  However, in the remaining patients the genotypic types of the moles are unknown. We characterized 80 new HM tissues, of which 57 from patients with no mutations in the known genes and reviewed the genotypes of a total of 123 molar tissues. We demonstrate that patients without mutations are highly heterogeneous and only a small minority of their moles are diploid biparental (8%). The mechanisms that were found to recur in patients without mutations are diploid androgenetic monospermic (24%) and triploid dispermic (32%); the remaining HM (36%) were misdiagnosed as HM due to errors in the analyses or/and their unusual mechanisms. We compared three parameters of genetic susceptibility in patients with and without mutations and show that patients without mutations are mostly from non-familial cases, have fewer reproductive losses, and more live births. Our data demonstrate that patients with RHM and no mutations in the known genes are, in general, different from those with mutations; they have a milder genetic susceptibility and/or a multifactorial etiology underlying their RHM. These data suggest that there are few genes for RHM to be identified and these genes are responsible for recurrent moles and various forms of reproductive failure.
As part of the Dr. Pierre Drouin Colloquium.
This conference will be presented in English.
Friday, May 10, 11 : 45
Auditorium of the CRCHUM , R05.210 and R05.220
900 Saint-Denis Street, 5th floor 
Montreal (Quebec), H2X 0A9
Rima Slim, Ph. D.
Research Scientist, Human Reproduction and Development Axis
Assistant Professor, Department of Obstetrics and Gynecology, MUHC
Assistant Professor, Department of Human Genetics, MUHC
About CRCHUM Conferences
The CRCHUM Conferences are free weekly meetings featuring renowned scientific speakers from various disciplines. These conferences are accredited by the Royal College of Physicians and Surgeons of Canada as continuing professional development activities. 
 
About our scientific activities
> Schedule of the CRCHUM Conferences and the scientific activities at the CRCHUM (in French)