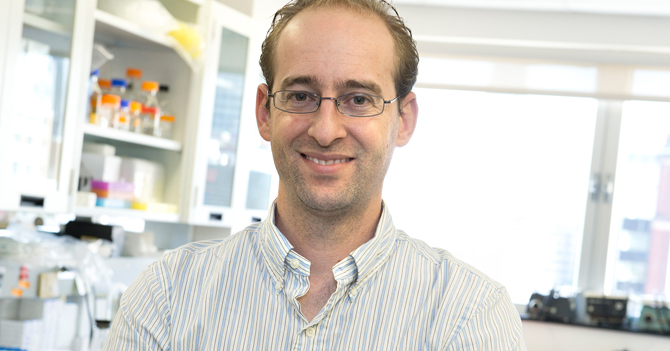 Andrés Finzi, a principal scientist of the immunopathology axis, is the recipient of the 2019-Joe Award for Young Investigator by the Canadian Society for Clinical Investigation.
This award recognizes the outstanding and innovative research work of a new young researcher in the first eight years of a first university assignment. Congratulations!
Last April, Andrés Finzi and Daniel Kaufman, a researcher at the CRCHUM, received a five-year, $2 million grant from the CIHR for the project Unlocking HIV-1 Env Towards a Cure from the "HIV/AIDS Biomedical and Clinical Research—Cure—Focused" category.
The CIHR funding received by the team led by Finzi stems directly from the researcher's recent work. In the journal Cell Host & Microbe, an international team brought together by Dr. Finzi showed how it succeeded in viewing a previously unknown configuration of HIV and reveal very detailed image of its weaknesses. This major breakthrough was made possible through the use of a molecular "can opener" to expose parts of the viral envelope that can be targeted by antibodies.
Andrés Finzi is currently the Canada Research Chair in Retroviral Entry (Level 2), renewed for five years last June.