Ph.D.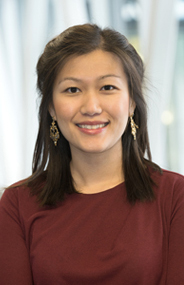 Centre de recherche du CHUM
Assistant professor
Department of social and preventive medicine, University of Montreal
Chairholder
CIHR Research Chair in Sex and Gender Sciences
Contact
vikki.ho@umontreal.ca
514-890-8000, ext.: 31522

The patient who needs immediate assistance should not communicate directly with the researcher. Instead, they should call the doctor's office or take other appropriate measures, such as going to the nearest emergency service.
Keywords
Epidemiology, cancer, environment, lifestyle, occupational exposures, biomarkers, genetic factors.
Research interests
In Canada, cancer is the leading cause of death. Though advances in the treatment of cancer are important to reduce the burden of this deadly disease, equally important is the endeavour to identify what causes cancer to prevent it from occurring in the first place. I am a cancer epidemiologist with expertise in investigating the role of environmental, lifestyle, occupational and individual susceptibility factors in cancer etiology. I have pursued this field of research within a range of disciplines combining approaches from epidemiology, occupational hygiene, clinical medicine, and mechanistic toxicology. My program of research on cancer prevention is organized into three themes; with ongoing studies operating within these research themes.
I. Modifiable factors for cancer prevention
Study 1: The association between occupational physical activity and lung cancer risk (funded by CIHR)
II. Sex and gender differences in cancer etiology
Study 2: Occupational exposure to endocrine disrupting chemicals and colorectal cancer risk (funded by CIHR)
Study 3: Occupational exposures of women: development of a job exposure matrix to provide gender-specific estimations of exposure (funded by IRSST)
III. A molecular epidemiologic approach to investigating environment-cancer relationships
Study 4: Environmental influences in colorectal cancer etiology: a molecular epidemiology study on the role of epigenetics
Publications
Publications indexées sur PubMed
News
Cancer: Vikki Ho awarded a CIHR Sex and Gender Science Chair