MD, MSc, FRCPC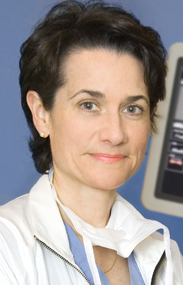 CHUM Research Centre
Musculoskeletal radiologist
CHUM
Full professor
Department of radiology, radiation oncology and nuclear medicine, University of Montreal
Contact
nathalie.bureau@umontreal.ca
514 890-8444

The patient who needs immediate assistance should not communicate directly with the researcher. Instead, they should call the doctor's office or take other appropriate measures, such as going to the nearest emergency service.
Keywords
Ultrasonography, magnetic resonance imaging, elastography, shoulder, elbow, tendon disorders, osteoarthritis, segmentation and 3D shape analysis.
Research interests
Development, validation and clinical translation of quantitative biomarkers of tendon disorders.
Multiparametric imaging for the diagnosis and prognosis of shoulder rotator cuff tears.
Biomechanics, socio-economics and deep learning methods applied to the problematics of knee osteoarthritis.
IMAGING MODALITIES
Ultrasonography (US), Magnetic resonance imaging (MRI), Elastography, Radiography.
PATHOLOGIES
Rotator cuff tears of the shoulder; Chronic lateral epicondylosis of the elbow; Gluteus tendinopathy of the hip; Knee osteoarthritis.
THESE PROJECTS OF SUPPORTED BY :
The Fonds de recherche du Québec Santé (FRQS), the Fondation de l'Association des Radiologistes du Québec (FARC), the Institut Robert-Sauvé en Santé et Sécurité du Travail (IRSST), the Ministère de l'Économie, Sciences et Innovaton (MESI – FPQIS).
Publications