M.Sc.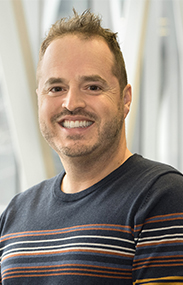 CHUM Research Centre
Nurse practioner in cardiology
Department of cardiology, CHUM
Contact
jean-dominic.rioux.chum@ssss.gouv.qc.ca
514 890-8000, ext. 15431
The patient who needs immediate assistance should not communicate directly with the researcher. Instead, they should call the doctor's office or take other appropriate measures, such as going to the nearest emergency service.
Other affiliations
Tutor of students during intership of adult care nurse practitioner
Keywords
Heart failure, cachexia, palliative care, atrial fibrillation post-cardiac surgery.
Research interests
Clinic application of news the news therapies in heart failure
Atrial fibrillation post-surgery cardiac
Publications
Publications indexées sur PubMed