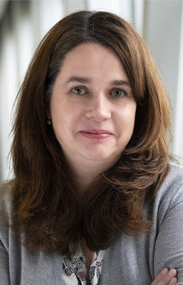 CHUM Research Centre
Endocrinologist
CHUM
Associate clinical professor
Department of medicine, Université de Montréal
Scientific director
Interdisciplinary team on adrenal gland cancers, CHUM
Contact
isabelle.bourdeau@umontreal.ca
514 890-8000, ext. 14086

The patient who needs immediate assistance should not communicate directly with the researcher. Instead, they should call the doctor's office or take other appropriate measures, such as going to the nearest emergency service.
Keywords
Adrenal tumors, Cushing syndrome, Wnt/beta-catenin signaling pathway.
Research interests
Genetic and molecular studies of adrenal tumors. Characterization of Wnt/beta-catenin signalling in adrenocortical tumorigenesis.
Publications
News
Identified: the gene behind an unusual form of Cushing's Syndrome