M.D., FRSC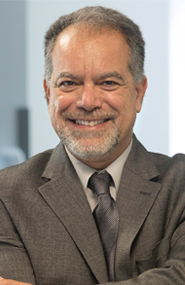 CHUM Research Centre
Head
Urology, CHUM
Director
Prostate cancer research, Montreal Cancer Institute / CRCHUM
Full professor
Department of surgery, Université de Montréal
Chair holder
Raymond Garneau Chair in Prostate Cancer, Université de Montréal
Contact
fred.saad@umontreal.ca
514 890-8000, ext. 27466
The patient who needs immediate assistance should not communicate directly with the researcher. Instead, they should call the doctor's office or take other appropriate measures, such as going to the nearest emergency service.
Other affiliations
Founder
CHUM's Urologic Oncology Clinic and the Prostate Cancer Molecular Oncology Laboratory in the Montreal Cancer Institute.President, Canadian Urologic Oncology Group (CUOG) and National Cancer Institute of Canada G-U (NCIC G-U)
Secretary
Canadian Prostate Health Council and Global G-U
Principal investigator
Alliance-Procure biobank, which brings together the four universities in Quebec
Member
Board of Directors of: The Montreal Cancer Institute, National Cancer Institute of Canada, Procure Alliance
Keywords
Oncological urology, prostate cancer, tissue bank, prognostic markers in prostate cancer, hormone-refractory cancer.
Research interests
Research on prognostic molecular markers in prostate cancer and hormone-refractory prostate cancer.
Founder of the Oncology Urology Clinic at the University Hospital of Montreal (CHUM) and the Molecular Oncology Laboratory in Prostate Cancer at the Montreal Cancer Institute.
Publications
Publications indexed on PubMed
News
Prostate cancer treatment: an encouraging combination therapy
Prostate cancer: treating it early for a better, longer life
Dr Saad nommé chevalier de l'Ordre national du Québec (In French)