M.D., Ph.D.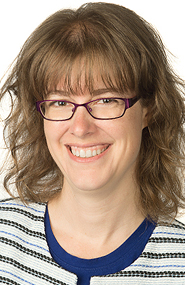 CHUM Research Centre
Genitourinary and molecular pathologist
Department of pathology, CHUM
Professeure adjointe de clinique
Département de pathologie et de biologie cellulaire, University of Montreal
Contact
dominique.trudel.chum@ssss.gouv.qc.ca
514 890-8000, ext. 31318
> LinkedIn

The patient who needs immediate assistance should not communicate directly with the researcher. Instead, they should call the doctor's office or take other appropriate measures, such as going to the nearest emergency service.
Other affiliations
Associate researcher
Oncology axis, Hôtel-Dieu de Québec, Centre de recherche du CHU de Québec
Keywords
Genitourinary pathology, prostate cancer, intraductal carcinoma of the prostate, in situ analysis, Raman spectroscopy, immunohistochemistry, virtual analysis, biomarkers, prognosis.
Research interests
Our team is working to improve the identification of patients with aggressive prostate cancer. To do this, we develop diagnostic and prognostic applications for tissue and optical markers. Our research projects are grouped into 2 main themes:
Characterization of intraductal carcinoma of the prostate, an aggressive entity of prostate cancer.
Integration of Raman spectroscopy in the clinical workflow.
Our research is funded by the Institut du cancer de Montréal, Prostate Cancer Canada, Fonds de recherche du Québec – Santé (FRQS), Cancer Research Society, MEDTEQ,
Institute for data valorization (IVADO) and the Canadian Institutes of Health Research (CIHR).
Publications
Publications indexed on PubMed
News
2020 CRCHUM Awards of Excellence: five researchers in the spotlight