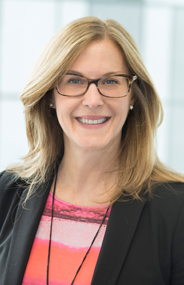 CHUM Research Centre
Full professor
Department of neuroscience, Université de Montréal
Chairholder
Canada research chair in glaucoma and age-related neurodegeneration
Contact
adriana.di.polo@umontreal.ca
514 890-8000, ext. 31280

The patient who needs immediate assistance should not communicate directly with the researcher. Instead, they should call the doctor's office or take other appropriate measures, such as going to the nearest emergency service.
Other affiliations
Adjunct professor
School of Optometry, Université de Montréal
Member
Groupe de recherche sur le système nerveux central (GRSNC) du FRQS
Member
Réseau de recherche en santé de la vision du Québec du FRQS
Member
Groupe de recherche en sciences de la vision (GRSV)
Keywords
Vision, retina, retinal ganglion cells, glaucoma, neuron-glia interactions.
Research interests
Development of therapeutic strategies for neuroprotection in glaucoma.
Identification of signaling pathways that regulate neuronal survival and regeneration.
Characterization of neuron-glia interactions in the injured retina.
Publications
Publications indexed on PubMed
News
Glaucoma: seeing the light at the end of the (nano)tunnel
Nanotubes in the eye that help us see
Adriana Di Polo, Recipient of the 2019 Dr. Lewis Rudin Glaucoma Prize
Chaires de recherche du Canada : trois nouvelles et deux renouvelées au CRCHUM (In French only)