PhD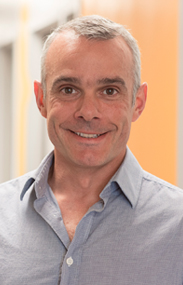 CHUM Research Centre
Theme leader
Cardiometabolic research theme, CRCHUM
Scientific director
Metabolic phenotyping core facility, CRCHUM
Associate professor
Departments of medicine, pathology and cellular biology and biochemistry, Université de Montréal
Contact
514 890-8000, ext. 23628

The patient who needs immediate assistance should not communicate directly with the researcher. Instead, they should call the doctor's office or take other appropriate measures, such as going to the nearest emergency service.
Other affiliations
Co-director and member
Centre de recherche sur le diabète de Montréal
Keywords
Central nervous system, hypothalamus, astrocytes, neurons, metabolism and intracellular signaling, energy balance, pancreatic beta cell, obesity and type 2 diabetes.
Research interests
Hypothalamic nutrient-sensing mechanisms (glucose and fatty acids) and alterations in obesity and type 2 diabetes, astrocyte-neuron cross-talk, hypothalamic control of glucose and energy homeostasis and role of the hypothalamo-pancreatic axis in beta cell function and type 2 diabetes.
Publications
Publications indexed on PubMed
News