M.D., M.Sc., FRCPC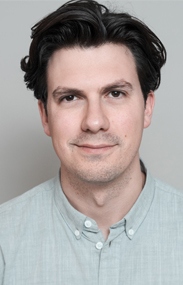 Centre de recherche du CHUM
Medical microbiologist
Laboratory medicine Department, CHUM
Internist & Infectious diseases specialist
Department of medicine, CHUM
Assistant professor
Department of microbiology, infectiology and immunology, Université de Montréal
Contact
simon.grandjean.lapierre@umontreal.ca
514-890-8000, ext. 36210

> YouTube
The patient who needs immediate assistance should not communicate directly with the researcher. Instead, they should call the doctor's office or take other appropriate measures, such as going to the nearest emergency service.
Other affiliations
Affiliate researcher
Institut Pasteur de Madagascar
McGill International TB Center
Keywords
Molecular epidemiology
Acoustic epidemiology
Innovation and technologies
Tuberculosis
Research interests
Dr. Grandjean Lapierre leads a translational research program focused on Tuberculosis control in Canada and abroad, notably in Madagascar. His research activities principally include the impact assessment of new innovative technologies and molecular diagnostic tools on Tuberculosis control.
Molecular diagnostics
• Molecular epidemiology and transmission
• Molecular diagnostics from primary clinical samples
Innovative technologies
• Digital cough monitoring for screening and clinical management of respiratory diseases
Publications
LaFleur M, Reuter KE, Hall MB, Rasoanaivo HB, McKernan S, Ranaivomanana P, Michel A, Rabodoarivelo MS, Iqbal Z, Grandjean Lapierre S, Rakotosamimanana N. Drug-resistant tuberculosis in pet ringtailed lemur, Madagascar.Emerg Inf Dis. 27(3): 977-979. (2021) https://doi.org/10.3201/eid2703.202924
Grandjean Lapierre, S., Knoblauch, A.M., Randriamanana, D. et al. Multidrug-resistant tuberculosis surveillance and cascade of care in Madagascar: a five-year (2012–2017) retrospective study. BMC Med 18, 173 (2020). https://doi.org/10.1186/s12916-020-01626-6
Hunt M, Bradley P, Grandjean Lapierre, S. et al. Antibiotic resistance prediction for Mycobacterium tuberculosis from genome sequence data with Mykrobe [version 1; peer review: 2 approved, 1 approved with reservations]. Wellcome Open Res (2019), 4:191 https://doi.org/10.12688/wellcomeopenres.15603.1
Rakotosamimanana, N., Grandjean Lapierre, S., Raharimanga, V. et al. Performance and impact of GeneXpert MTB/RIF® and Loopamp MTBC Detection Kit® assays on tuberculosis case detection in Madagascar. BMC Infect Dis 19, 542 (2019). https://doi.org/10.1186/s12879-019-4198-6
Bahrainwala L, Knoblauch AM, Andriamiadanarivo A, Diab MM, McKinney J, Small PM, Grandjean Lapierre, S., et al. Drones and digital adherence monitoring for community-based tuberculosis control in remote Madagascar: A cost-effectiveness analysis. PLoS ONE 15(7): e0235572 (2020) https://doi.org/10.1371/journal.pone.0235572
Nouvet E, Knoblauch AM, Passe I, Grandjean Lapierre, S., et al. Perceptions of drones, digital adherence monitoring technologies and educational videos for tuberculosis control in remote Madagascar: a mixed-method study protocol BMJ Open 2019;9:e028073. https://doi.org/10.1136/bmjopen-2018-028073
News
A lemur died from tuberculosis— a likely victim of the flourishing illegal pet trade
Les drones peuvent-ils améliorer la santé de populations isolées? (In French only)