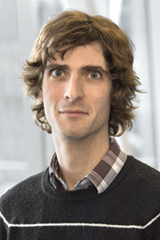 CHUM research centre
Neuropsychologist
Department of Neurology, CHUM
Adjunct professor
Department of psychology, Université de Montréal
Contact
olivier.boucher.chum@ssss.gouv.qc.ca
514-890-8000, ext. 10771
The patient who needs immediate assistance should not communicate directly with the researcher. Instead, they should call the doctor's office or take other appropriate measures, such as going to the nearest emergency service.
Keywords
Neuropsychology, epilepsy, insula, memory, decision making.
Research interests
Neuropsychology of insular cortex epilepsy. Role of the insula in neuropsychological functioning (lesion studies, intracranial EEG, neuroimaging). Contribution of cognitive testing in predicting the location of the epileptogenic focus. Impacts of epilepsy surgery on neuropsychological functioning.
Publications