M.D., M.Sc, FRCPC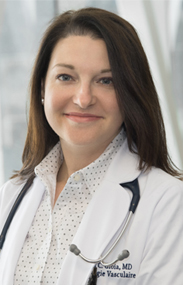 Centre de recherche du CHUM
laura.gioia@umontreal.ca
514-890-8000, ext. 26260
The patient who needs immediate assistance should not communicate directly with the researcher. Instead, they should call the doctor's office or take other appropriate measures, such as going to the nearest emergency service.
Stroke Neurologist
Department of Neurology, CHUM
Assistant Clinical Professor
Department of Neuroscience, University of Montréal
Other affiliations
Associated Member
Department of Medicine, Montreal Heart Institute
Keywords
Ischemic Stroke
Intracerebral Hemorrhage
Acute Management, imaging, and treatment of cerebrovascular disesase
Research interests
Identification and management of acute stroke (both ischemic and hemorraghic) in the acute and prehospital period.
Management of cerebrovascular events (both ischemic and hemorraghic) associated with cardiomebolic disease requiring anticoagulant use.
Analysis of the association between cryptogenic stroke and occult neoplasm.
Publications
Publications indexed on PubMed
Publications indexed on ResearchGate