Ph.D.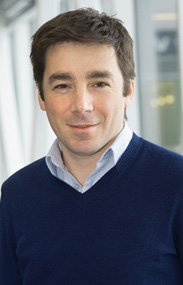 CHUM Research Centre
Assistant professor
Department of microbiology, infectious diseases and immunology,, Université de Montréal
Contact
nicolas.chomont@umontreal.ca
514 890-8000, ext. 31266

Web site : www.chomontlab.co
The patient who needs immediate assistance should not communicate directly with the researcher. Instead, they should call the doctor's office or take other appropriate measures, such as going to the nearest emergency service.
Other affiliations
Co-Investigator, Canadian HIV Cure Enterprise (CanCURE)
Keywords
Reservoirs of HIV, viral latency, eradication, memory T cells.
Research interests
Antiretroviral therapy (ART) does not eradicate HIV. The presence of a small pool of cells in which HIV persists as a silent provirus, usually referred as the ?reservoir? of HIV infection, is considered as the major obstacle to HIV eradication. Our work is aimed at characterizing the tissues and cells in which HIV persists during ART in order to specifically target and eliminate persistent HIV, with the ultimate goal of curing HIV infection.
Publications
News
HIV research: Nicolas Chomont and Andrés Finzi funded by the NIH
Common pathogens facilitate HIV persistence
HIV reservoirs 100 times smaller
2019 CRCHUM Awards of Excellence: A Great Vintage
Curing HIV: four extraordinary experts