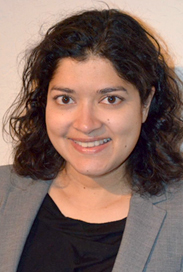 Centre de recherche du CHUM
Associate professor
Department of social and preventive medicine, Université de Montréal
Contact
geetanjali.datta@umontreal.ca
514 890-8000, ext.15219

The patient who needs immediate assistance should not communicate directly with the researcher. Instead, they should call the doctor's office or take other appropriate measures, such as going to the nearest emergency service.
Other affiliations
Researcher
Léa-Roback Research Centre on Social Inequalities in Health in Montreal, Université de Montréal
Researcher
Lung Cancer Disparities Center, Harvard School of Public Health
Keywords
Cancer prevention, cancer survival, epidemiology, screening, physical activity, smoking, population health, social determinants of health, causal inference, activity spaces, health promotion, health of minority populations.
Research interests
The research focus of our group includes the social epidemiology of cancer, cancer prevention and social determinants of health. This work is conducted with a focus on potential intervention and knowledge translation.
Publications