Ph.D., FCAHS, FRSC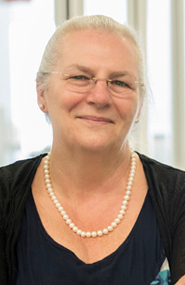 CHUM Research Centre
Associate scientific director
Basic and translational research, CRCHUM
Full professor
Department of medicine, University of Montreal
Director
Cancer research network, FRQS
Contact
anne-marie.mes-masson@umontreal.ca
514 890-8000, ext. 25496
The patient who needs immediate assistance should not communicate directly with the researcher. Instead, they should call the doctor's office or take other appropriate measures, such as going to the nearest emergency service.
Keywords
Basic and translational research, molecular and cellular biology, cancer, oncology, genetic events related to tumor progression, ovarian and prostate cancer.
Research interests
Research on the development of cancer models and the identification of molecular events that are involved in ovarian and prostate cancer. Biobanks and derivations of cell lines.
Studies on the characterization of expression profiles and DNA mutations in ovarian cancer in women and their correlations with clinical parameters.
Molecular markers for the progression and prognosis of prostate cancer.
New therapies for ovarian cancer and advanced prostate cancer.
Publications
Publications indexed on PubMed
News
Anne-Marie Mes-Masson, Winner of the Acfas Léo-Pariseau Award
Anne-Marie Mes-Masson, One of Canada's 100 Most Powerful Women
L'équipe d'Anne-Marie Mes-Masson récipiendaire du concours LEADACTION en cancer du sein (in French only)
Un projet du CRCHUM en oncologie est l'un des récipiendaires du concours EMC2 de l'Oncopole (in French only)
Anne-Marie Mes-Masson, Recipient of the Award for Exceptional Leadership in Cancer Research
Recherche en oncologie de précision : 1 million de $ pour une équipe codirigée par la Dre Diane Provencher (In French only)
Addicted to Ran, Ovarian Cancer Cells Stop Moving When Deprived