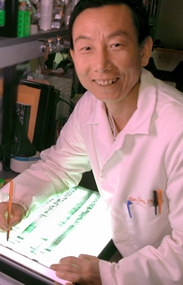 CHUM Research Centre
Chief
Molecular genetics laboratory, CRCHUM
Full professor
Department of medicine, Université de Montréal
Contact
alan.deng@umontreal.ca
514 890-8000, ext. 23614

The patient who needs immediate assistance should not communicate directly with the researcher. Instead, they should call the doctor's office or take other appropriate measures, such as going to the nearest emergency service.
Keywords
Genetics of hypertension, hypertrophy and cardiac, aortic and renal hyperplasia.
Research interests
The pathogenesis of cardiovascular diseases, such as hypertension, cardiac, aortic and renal hypertrophy and hyperplasia. Focus on identifying quantitative trait loci (QTLs) using a combined approach of genetics, genomics, congenics, transgenics, knockouts, in situ hybridization, gene profiling and any new technology that is appropriate for gene identification. Moreover, we are interested in analyzing QTL-QTL interactions (see Hypertension 49:740, 2007 and other recent publications on Medline).
The specific animal model tested in our lab is the Dahl salt-sensitive hypertensive rat. At present, our group is the primary research centre in the world that is employing this model for hypertension QTL identifications and for QTL-QTL interactions.
Publications