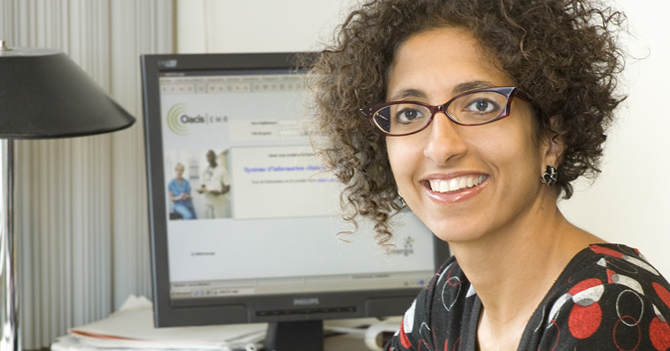 On Friday, April 22, the CRCHUM Conferences will welcome Dr. Amal Abdel-Baki, a clinician researcher with the Neuroscience Research Theme and head of the CHUM's Youth Mental Health Department. She is also a full clinical professor at the Université de Montréal.
During this presentation, Dr. Amal Abdel-Baki will share her experience with the deployment of a rapid learning system (RLS) for first psychotic episode programs, the FPERLS. Beyond thinking about the advantages of an RLS for youth mental health departments, the goal will be to consider its implementation across the entire health system, following a discussion of the successes and challenges encountered during this adventure.
Its overall goal being to improve patient care quality and their satisfaction, to adhere to the essential components of care models and to inform decision-making at the local and provincial levels, a rapid learning system (RLS) uses technologies to monitor, in real time, the care provided to patients and its impact on patient health, their situation and their satisfaction. It collects data continuously and provides personalized feedback electronically in real time, showing the progress of a care program over time and comparing it to the average of all similar programs, with comments and suggestions for improvement.

---
FRIDAY, APRIL 22, 2022 – 12 P.M. TO 1 P.M.
*You will receive a confirmation email containing the information you need to join the meeting.

Dr. Amal Abdel-Baki completed her medical and psychiatric training at Université Laval, a Master's degree in biomedical sciences on the predictive factors of the long-term evolution of schizophrenia at Université de Montréal, and additional research and clinical training (fellowship) in Melbourne, Australia in early intervention for psychosis.
She has been working at the CHUM since 2002 as a clinical psychiatrist and is head of the youth mental health service. She is responsible for research at the JAP (Early intervention for psychosis service) and a researcher at the CHUM research center.
She is a full professor and head of research in the psychiatry residency program of the Department of Psychiatry and Addictology of the Faculty of Medicine of the Université de Montréal.She is president of the Association of First Episode Psychosis Programs (AQPPEP) and a member of the steering committee of the Canadian Consortium on Early Intervention for Psychosis (CCEIP).
In 2014, the EQIIP SOL she established in 2012 won an honorable mention from the MSSS for improving access to mental health care for homeless youth suffering from substance abuse, and the Réseau d'intervention de proximité pour les jeunes de la rue (RIPAJ) that she co-founded is a finalist for the "Partnership" award for the 2020 edition.

We look forward to seeing you connected in large numbers!
---
ABOUT CRCHUM CONFERENCES
The CRCHUM Conferences are free weekly meetings featuring renowned scientific speakers from various disciplines.
> Schedule of the CRCHUM Conferences