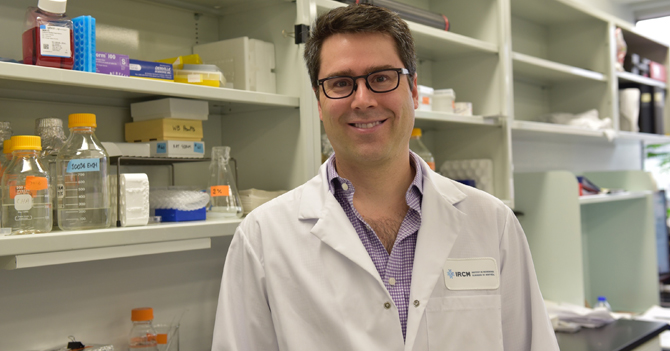 For the CRCHUM conference on December 11, we will welcome Frédéric Charron, from IRCM. He holds the Canada Research Chair in Developmental Neurobiology. He is also an Associate Research Professor in the Department of Medicine at the Université de Montréal and Adjunct Professor in the Department of Medicine, the Department of Biology, and the Department of Anatomy and Cell Biology at McGill University.

Sonic hedgehog (Shh) is a mitogen which stimulates the proliferation of granule cell precursors in the cerebellum. Abnormal regulation of Shh signaling in the cerebellum leads to medulloblastoma, a pediatric cancer of the brain that is the most common solid tumor in children. Frédéric Charron's laboratory focuses on understanding how medulloblastoma arises, in particular which genes may promote or inhibit medulloblastoma tumorigenesis.

---
FRIDAY, DECEMBER 11, 2020 – 12 P.M. TO 1 P.M.
*You will receive a confirmation email containing the information you need to join the meeting.

Frédéric Charron's research focuses on understanding the immense complexity underlying the wiring of the nervous system. This work will help to identify novel strategies to repair damages caused by neurodegenerative diseases and brain or spinal cord injuries. He also works on brain tumours that affect children.

Invited by Martine Tétreault
Neuroscience theme
We look forward to seeing you connected in large numbers!

---
ABOUT CRCHUM CONFERENCES
The CRCHUM Conferences are free weekly meetings featuring renowned scientific speakers from various disciplines.
> Schedule of the CRCHUM Conferences