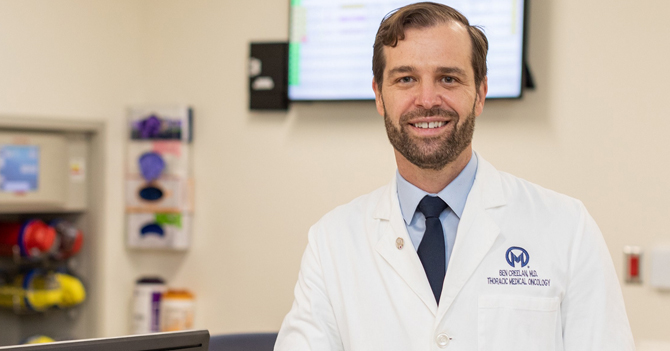 This Friday, June 10, we will welcome Dr Benjamin C. Creelan, MD, Clinical Researcher at the Moffit Cancer Center. He is invited by Dr Simon Turcotte, from the Cancer Research Theme.
Infusion of live cells targeting tumors hold promise. Many foresee that adoptive cell therapy will be the next "pillar" of cancer treatment. Here, I will review salient trial results and ongoing studies, using lung cancer as an example. For example, one of the simplest forms of cell therapy, TIL, is showing response rates of 20-40% across a range of cancer types. Improvements in techniques can make this safer and applicable to more patients. Genetic editing allows us to increase T cell specificity and redirect them. Newer therapies such as recombinant TCRs can target public cancer neoantigens, such as KRAS or TP53. Translating cell therapy into solid tumors is a big challenge of this decade. This webinar will be a primer, to convey fundamental concepts and trends.
---
FRIDAY, JUNE 10, 2022 – 12 P.M. TO 1 P.M.
*You will receive a confirmation email containing the information you need to join the meeting.

Dr. Creelan earned his MD from Jefferson Medical College. He completed an Internal Medicine Residency at Thomas Jefferson University in the Department of Internal Medicine. Dr. Creelan then completed a Hematology Oncology Fellowship at the University of South Florida at Moffitt Cancer Center and a Master's Degree in Clinical and Translational Research through the National Institute of Health K30-sponsored SPOR program. Dr. Creelan focus on translational and clinical research, specifically the development of new immune therapies, for the treatment of lung cancers. His research efforts aim to more effectively treat these cancers based on new insights into the biology of the disease.

We look forward to seeing you connected in large numbers!
---
ABOUT CRCHUM CONFERENCES
The CRCHUM Conferences are free weekly meetings featuring renowned scientific speakers from various disciplines.
> Schedule of the CRCHUM Conferences