M.Sc.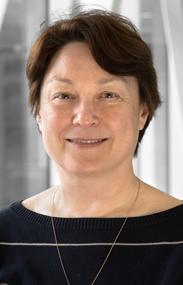 Centre de recherche du CHUM
Conseillère clinique – volet qualité et évolution de la pratique
DSM, CHUM
Contact
lala.khomutova.chum@ssss.gouv.qc.ca
514-890-8000, ext. 35624

The patient who needs immediate assistance should not communicate directly with the researcher. Instead, they should call the doctor's office or take other appropriate measures, such as going to the nearest emergency service.
Keywords
Improving the quality and safety of care
Improving patient experience
Improving staff and team experience
Collaborative practices
Optimization of resources and reduction of healthcare costs
Research interests
Optimization of the care trajectory and better integration of professionals in the patient's journey: the patient must be seen by the right professional, in the right place, at the right time.
Multiplication of patient management methods and development of professional autonomy to improve access to care and services.
Evaluation of the impact of interprofessional collaborative practices on improving the quality and safety of care.