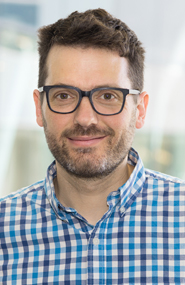 CHUM Research Centre
Associate professor
Department of social and preventive medicine, Université de Montréal
Contact
yan.kestens@umontreal.ca
514 890-8000, ext. 15900
The patient who needs immediate assistance should not communicate directly with the researcher. Instead, they should call the doctor's office or take other appropriate measures, such as going to the nearest emergency service.
Other affiliations
Researcher
Léa-Roback research centre on social inequalities and health
Chairholder
CIRH applied public health chair - Urban interventions and population health
Keywords
Population health, spatial epidemiology, environmental determinants, geographic information systems, spatial analysis, urban planning.
Research interests
Development and application of measurement and spatial analysis tools to characterize the factors and processes involved in the links between environment and health.
Various ongoing research on the spatial dimension of our interactions with the environment and the impact on health: patterns of mobility and exposure to various environmental risk factors; the influence of the built environment, access to resources and food landscapes on youth obesity, mental health, healthy aging; neighborhood effects and transmission of HIV and hepatitis C among injecting drug users; impact of urban heat islands and air quality on mortality.
Other methodological work explores the potential of hedonic modeling econometric methods as a tool for characterizing environmental externalities influencing health and health behaviors.
Publications