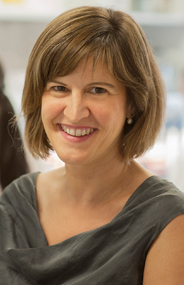 CHUM Research Centre
marie-josee.hebert.chum@ssss.gouv.qc.ca
514 890-8000, ext. 25017

The patient who needs immediate assistance should not communicate directly with the researcher. Instead, they should call the doctor's office or take other appropriate measures, such as going to the nearest emergency service.
Nephrology-transplant physician
CHUM
Vice-rectrice
Vice-rectorat à la recherche, à la découverte, à la création et à l'innovation, Université de Montréal
Full professor
Department of medicine, Université de Montréal
Chairholder
Shire Chair in Nephrology, Renal Transplantation and Regeneration
Other affiliations
Co-director
Canadian National Transplant Research Program (CNTRP)
Keywords
Transplantation, apoptosis, autophagy, transplant rejection, renal failure, autoimmunity, exosomes.
Research interests
Research on the characterization of pathways that govern maladaptive renal vascular remodeling and of the importance of these pathways in renal dysfunction in transplant and kidney disease patients.
Characterization of endothelial cell death biomarkers for better prediction and prevention of renal fibrosis triggered by acute kidney injury.
Characterization of the molecular pathways controlling the biogenesis and immunogenic activities of apoptotic exosome-like vesicles (ApoExo) and anti-LG3 and translation of these findings in humans to improve prediction and management of rejection.
Dr Hébert is the Co-Director of the Canadian National Transplant Research Program, a coalition of more than 100 scientists focusing on improving outcomes of solid organ and hematopoietic stem cell transplantation through multidisciplinary research. The CNTRP is funded by CIHR, FRQS and other partners. She also holds the Shire Chair in Nephrology, Transplantation and Renal Regeneration at University of Montreal.
Research funding: CIHR, Kidney Foundation of Canada, FRQS.
Publications