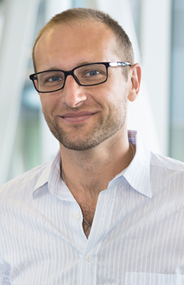 CHUM Research Centre
Associate professor
Department of obstetrics and gynecology, Université de Montréal
Contact
greg.fitzharris@umontreal.ca
514 890-8000, ext. 31399
Website: www.fitzharrislab.com
The patient who needs immediate assistance should not communicate directly with the researcher. Instead, they should call the doctor's office or take other appropriate measures, such as going to the nearest emergency service.
Keywords
Oocyte, embryo, fertility, cell biology, imaging.
Research interests
Research in our laboratory is aimed at understanding how healthy eggs and embryos are made, and we are particularly focusing on how and why defects in chromosome segregation can cause infertility.
We specialize in the use of cutting edge microscopy techniques to analyze egg and embryo function ex-vivo. We have important collaborators in Montreal and elsewhere, and work closely with the CHUM Clinique de Procreation Assistée.
Ongoing projects in the lab include:
Analysis of spindle microtubule dynamics in oocytes.
Evaluation of the changes in spindle function that occur with maternal age, and how this causes chromosome segregation error.
Analysis of the mechanism of chromosome segregation in embryos, and the causes of segregation errors.
Analysis of apoptotic pathways in oocytes and embryos.
News
Choosing the best embryos: CRCHUM researchers pave the way to successful pregnancies