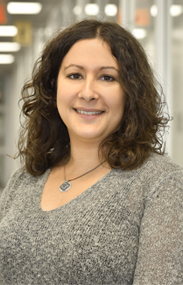 CHUM Research Centre
Associate professor
Department of neuroscience, Université de Montréal
Contact
diana.matheoud@gmail.com
514 890-8000, ext. 14090
The patient who needs immediate assistance should not communicate directly with the researcher. Instead, they should call the doctor's office or take other appropriate measures, such as going to the nearest emergency service.
Keywords
Presentation of mitochondrial antigens, autoimmunity, neurodegenerative diseases, Parkinson's disease, animal models, cell culture, T lymphocytes.
Research interests
Study of the role of mitochondrial antigen presentation in neurodegenerative diseases, especially in Parkinson's disease.
Publications
Publications indexed on PubMed
News
Découvertes de l'année 2019 de « Québec Science » : Parkinson et infection intestinale (In French only)