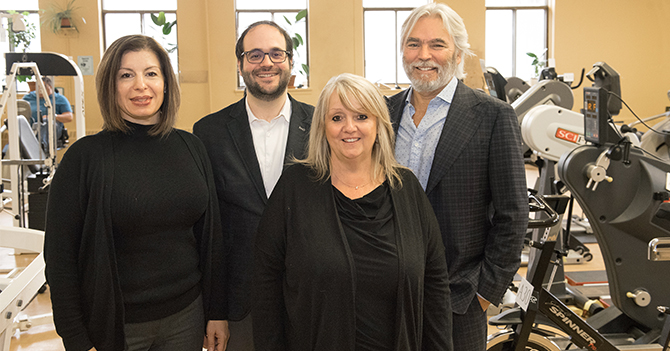 Centre de réadaptation Lucie-Bruneau physiotherapist Maria Vocos, CHUM neurologist and researcher Dr. Antoine Duquette, Centre de réadaptation Lucie-Bruneau nurse clinician Lise Brisson, and Ataxia Canada president Jean Luk Pellerin.
Uncoordinated movements, impaired speech caused by muscle weakness, diabetes and cardiomyopathy: Friedreich's ataxia hits hard and early. This neurodegenerative orphan disease, for which no treatment exists, generally manifests between the ages of 5 and 15, initially affecting walking.
Occurring in 1 in 30,000 people, the disease is rare. To identify the best ways of monitoring its progression, a research network has been created. CHUM neurologist Antoine Duquette and his colleagues at the Centre de réadaptation Lucie-Bruneau are collaborating in an international study directed by Dr. David R. Lynch of the Children's Hospital of Philadelphia.
Conducted at 9 sites in the United States, 2 sites in Canada (at the CHUM and in Toronto) and 1 each in Brazil and Australia, this large-scale study will aggregate the data collected to determine the best ways to follow and assess the progression of the disease and to measure clinical and biochemical changes over a short period of time. 2,000 participants will be recruited throughout the world, including more than 150 at the CHUM and the Centre Lucie-Bruneau. They will be evaluated on an annual basis for more than ten years.
This study of the natural history of Friedreich's ataxia could lead to the development of new therapeutic approaches.
Additional information:
Dr. Antoine Duquette and the CHUM received funding from the Friedreich's Ataxia Research Alliance (FARA) and Ataxia Canada to conduct this research project.
In Montreal, about 80 patients have already been identified. The CHUM can count on its expertise with the disease, developed by Dr. André Barbeau starting in 1975 (The Quebec Cooperative Study of Friedreich's Ataxia: 1974–1984) and kept alive since by its neurology teams.
The CHUM site will be the only one in Canada that will be able to host clinical trials with adult patients.
The fact of participating in this type of clinical study with a characterized patient cohort may attract the attention of pharmaceutical companies and allow for the establishment of future research protocols at the CHUM Research Centre's Unit for Innovative Therapies, a competitive infrastructure for early-stage clinical research in Canada.
Participants will undergo examinations that can be completed in a few hours during a single visit.
Lastly, it is worth noting that the management of Friedreich's ataxia requires a multidisciplinary approach. For 26 years, the Centre de réadaptation Lucie-Bruneau has been providing rehabilitation services to individuals living with neuromuscular disease. Its specialized clinic serves as a model for North America. Unique multidisciplinary and medical teams work under a single roof, allowing for the development of expertise and facilitating treatment for users. This results in increased participation and better social integration. Today, nearly 1,000 people use its services, including more than 60 with Friedreich's ataxia.