B. eng., PhD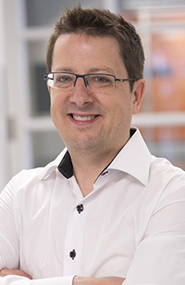 CHUM Research Centre
Associate professor
Department of Engineering Physics, Polytechnique Montréal
Chief
Laboratoire Radiologie Optique (LRO)
Contact
frederic.leblond@polymtl.ca
514 340-4711, ext. 4740

The patient who needs immediate assistance should not communicate directly with the researcher. Instead, they should call the doctor's office or take other appropriate measures, such as going to the nearest emergency service.
Other affiliations
Biomedical Engineering Institute, University of Montreal
Research Group in Biomedical Sciences and Technologies (GRSTB)
Center for Optics, Photonics and Lasers (COPL)
Thayer School of Engineering at Dartmouth
Keywords
Biophotonics, optical imaging guided surgery methods, diffuse optical tomography, medical imaging, light propagation patterns in biological tissues, inverse problem solving methods.
Research interests
Development of mathematical methods and optical instrumentation integrated into clinical practice to guide surgical interventions including tumor resection and the collection of biopsy samples.
Publications
Publications indexed on PubMed
News
2020 CRCHUM Awards of Excellence: five researchers in the spotlight
A better way to detect prostate cancer
Sonder la matière avec la spectroscopie vibrationnelle moléculaire : applications pour le diagnostic, la chirurgie et la chasse au virus